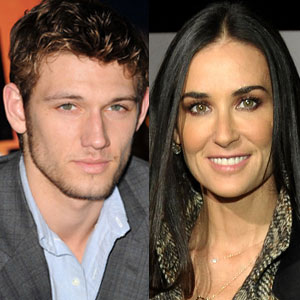 Fame Pictures, John Shearer/WireImage.com
Obviously, Demi Moore knows her way around the stripper pole. So how perfect that the real-life face of Cougarville wants to play Alex Pettyfer's seductress in the new Steven Soderbergh film about Channing Tatum's stripper past?!
Brilliant, we say!
With her hubby Ashton Kutcher going back to work, looks like it's time for wifey Demi to start punching the 'ol timecard again, too:
Yes, Demi, we know you got it so here's your chance to flaunt it!
"Demi met with Steven Soderbergh at Soho House in West Hollywood last week to discuss the film, and she loved it," a source tells us exclusively. "She's so excited about the role." Soderbergh was equally thrilled about Demi doing her Mrs. Robinson thang for his upcoming flick.
The script is currently in the process of being written by Tatum's close pal Reid Carolin, who has worked with Tatum on three past projects. And Soderbergh has said it's a "sexy, funny and shocking" Saturday Night Fever 2.0.
And apparently, Demi has her dollar bills at the ready to place in Pettyfer's pants. Looks like that controversial tattoo of his is about to take center stage!
The project, which is currently being independently funded so that Soderbergh and Tatum can have full control, is the real-life story of Tatum's pre-Hollywood stripper past.
But with Tatum already at the ripe old age of 31, he and Soderbergh thought it would be best for the 21-year-old toned firecracker Pettyfer to play the 19-year-old male stripper. Tatum will instead play the role of mentor to Pettyfer, teaching his young protégée how to make it on and off the stage.
We really wish Chris Farley and Patrick Swayze were still around, they're the only things this movie is missing!