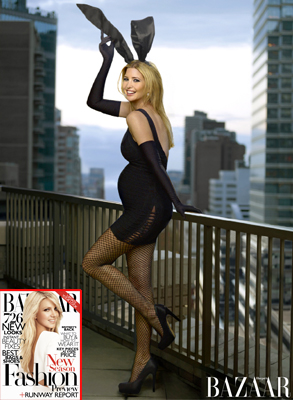 Martin Schoeller/Harpers Bazaar; Harpers Bazaar
Who says you can't be pregnant and sexy at the same time?
In the latest issue of Harper's Bazaar, expectant mom Ivanka Trump re-creates a famous photograph of jewelry designer Elsa Peretti shot by Helmut Newton back in the '70s.
Both ladies are sporting bunny ears, a black ensemble and fishnet stockings. The only difference is, The Donald's daughter is also rocking a baby girl in her belly.