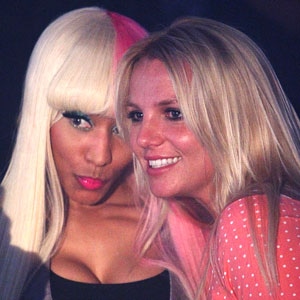 Joe Scarnici/FilmMagic
Who's just as excited as we are that Nicki Minaj will be opening for Britney Spears during her summer Femme Fatale concert tour?
Nicki Minaj, or course.
Even more exciting?  We'll get a little preview of the duo's love for one another tomorrow night, when they rock out together, performing along with Rihanna, at the Billboard Music Awards in Las Vegas, a source tells E! News.
So what's the colorful Trinidadian rapper have to say about joining forces with the pop superstar?
"Just seeing her in action," Minaj recently told us at the Samsung Infuse 4G launch party in L.A. "I want to see what she's done to really just stand the test of time for this long. You know, how's she's interacting with the people and with the dancers and the lighting and the props. I just want to get into the whole thing."
The Pink Friday singer also says she's a long time fan of Miss Spears.
"I've always loved her," Minaj said. "It's so funny because I had spoken about her in an interview a while back and I was like, 'I wish they would just leave her alone,' you know? And now she's back and it's Britney bitch!"