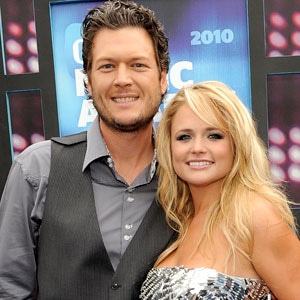 Rick Diamond/Getty Images
Missed some of this weekend's entertainment news? No worries. We've got all the details on the wedding of Miranda Lambert to Blake Shelton as well as the nuptials of Tamera Mowry, plus plenty on what went down at the TV Upfronts, the Cannes Film Festival and a whole lot more.
Plus, who won Survivor: Redemption Island?
• Country music superstars Miranda Lambert and Blake Shelton tied the knot Saturday evening in Texas in front of hundreds of guests, including Reba McEntire and Shelton's Voice costar Cee Lo Green.
• Speaking of weddings, former Sister, Sister star Tamera Mowry married longtime love Adam Housley Sunday at a Napa Valley inn and vineyard.
• After hearing false claims made about her on Twitter, 13-year-old Rebecca Black shot down rumors that she is pregnant.
• In his fourth try on the show, Boston Rob Mariano finally won, taking the title on Survivor: Redemption Island.
• The Beckham family got a cute new puppy!
• Johnny Depp and Penélope Cruz took the carpet by storm at the Cannes Film Festival to talk The Pirates of the Caribbean: On Stranger Tides.
• Angelina Jolie was also on hand at the film fest to premiere Kung Fu Panda 2, and dished on being a supermom while she was at it.
• Thor continued to dominate the box office for the second week in a row, raking in $34.5 million. Bridesmaids and Fast Five followed with $24.4 million and $19.5 million, respectively.
• After NBC revealed which shows will be returning to primetime and debuting this fall, we let you know when your favorite shows like True Blood are coming back to TV this spring and summer.
• Rihanna defended her decision to follow Chris Brown on Twitter after a fan called her out.
• With all of Lady Gaga's wacky outfits and the occasional egg-citing entrances, we couldn't help but wonder: How much would it really cost to go Gaga? 
• Just weeks after the mummified body of B-movie actress Yvette Vickers was found in her home, an L.A. coroner revealed her cause of death was heart failure.
• Alec Baldwin and John Krasinski went head-to-head in their second baseball smack-talking commercial for New Era.
• Patrick Dempsey escaped unscathed from a minor car crash Friday, after his race car was struck by another vehicle while he was prepping for a big race at the Virginia International Raceway.
• The woman thought to be connected to Tom Sizemore, who mysteriously went missing March 31, was found alive and well Saturday.