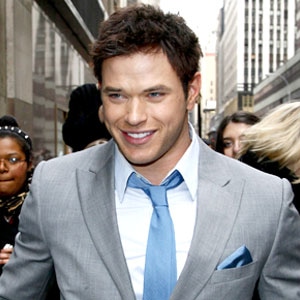 Fame Pictures
No doubt Kellan Lutz is grateful for being a part of the Twilight franchise, but even he was a bit relieved when the two Breaking Dawn flicks finally wrapped.
Poor guy had a bad case of homesickness.
And who can blame him really?
We'll let Mr. Lutz explain...
"Honestly, it was a long seven months that got longer and longer," he told me at Britney Spears' St. Bernard Project benefit. "That's a long time being away from my home, my friends and my dogs."
As Lutz fans know, his pooches mean everything to him. "I love my dogs," he said. "And when you're in Canada, it's kind of tough to fly them in and out. Ashley [Greene] did it and that made it even harder for me not to have my dogs there."
Next up for Lutz is the romantic comedy Love, Wedding, Marriage opposite Mandy Moore, but we have to say we're most excited about Immortals, an action-packed Greek epic in which he plays Poseidon. "It's probably my most favorite project," he said.
And from what we can tell (and have been hearing from people who have seen early screenings, for that matter), the former Calvin Klein underwear model looks hotter than ever wearing, well, not much as the god of the sea.
And yes, it's that Immortals flick—the one starring Superman-to-be, Henry Cavill. "He's going to be the best Superman," Lutz predicted. "He kills it in Immortals as Theseus, and he's going to kill it as Superman."