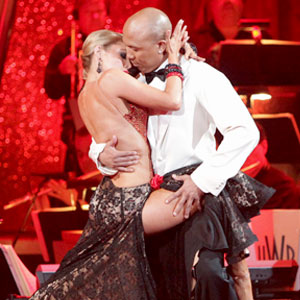 It's Friday the 13th. Something was bound to happen.
No stranger to curses or injuries, Dancing With the Stars suffered another casualty today, when pro hoofer Kym Johnson was rushed to the hospital.
Here's what happened…
The injury took place while Johnson was practicing with partner Hines Ward at the rehearsal studio. The duo reportedly took a tumble, and it must've been a pretty rough one, as the Los Angeles Fire Department dispatched an ambulance to their location.
The 34-year-old Johnson was taken out of the studio on a stretcher with an oxygen mask over her face, while Ward looked on with his head in his hands.
DWTS' producers provided an update later in the afternoon.
"Kym Johnson was admitted to the hospital today immediately after falling and injuring her neck during practice," production said in a statement. "After several tests, she was cleared by the medical staff, though she is bruised, sore and currently wearing a neck brace. Kym plans to continue with Hines Ward in the competition and resume rehearsals as soon as possible."
Let's hope they can keep up with the rest of the final four dancers, injured Ralph Macchio included.
"She's doing OK," her rep told E! News. "Better safe than sorry."
We'll second that. Feel better, Kym!
(Originally published May 13, 2011, at 1:40 p.m. PT)