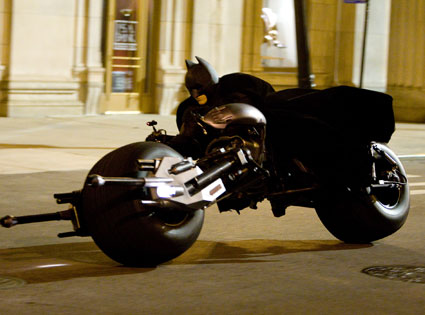 Stephen Vaughan/Warner Bros. Entertainment
Second place never looked so lofty.
The Dark Knight pushed past the original Star Wars Saturday for No. 2 among Hollywood's all-time moneymaking champs.
Elsewhere at the box office, the Ben Stiller-led Tropic Thunder rebounded from an underwhelming debut to post a $26 million Friday-Sunday take, tops for the weekend, per studio estimates compiled by Exhibitor Relations.
The Dark Knight, knocked down to second place in the weekend rankings for the first time in five weekends, achieved second place in the all-time rankings when it grossed $6.8 million yesterday, per Box Office Mojo. That number moved the Batman movie's domestic total to $466.4 million, and moved it ahead of Star Wars, which grossed $461 million, including rereleases.
All told for the weekend, The Dark Knight took in $16.8 million, and brought its total to $471.5 million.
"Going in, I would have been happy with $250 million," Warner Bros. distribution chief Dan Fellman said today. "…We went for a ride like the public."
The ride's next stop will be $500 million, a landmark Fellman believes the movie will reach on Labor Day weekend.
Only one other film in Hollywood history has grossed at least $500 million domestically. If outsiders still entertain a notion that The Dark Knight can somehow surpass that other film, Warner Bros. doesn't, and hasn't.
"It's not going to happen," Fellman said. "Titanic is king of the box office, and will remain that way forever."
At its current pace, The Dark Knight should tap out at about $530 million, or about $70 million shy of Titanic's $601 million record. If that's falling short, then Warners, which, according to one Entertainment Weekly-reported conspiracy theory, pushed back the new Harry Potter movie to next year because it just didn't need any more money this year, will happily accept the silver.
"I credit Christopher Nolan, who is a master filmmaker," Fellman said. "He had a vision to take a franchise that had barely grossed a $100 million [with Batman & Robin], created Batman Begins, and we were thrilled at a $205 million box office [with that movie]."
With The Dark Knight, the thrill has been that much more thrilling.
Other notes from the weekend box office:
After debuting with an unimpressive $6.5 million on Wednesday, Tropic Thunder beat lowered expectations. But its $26 million weekend was still a far cry from like-budgeted comedies You Don't Mess with the Zohan ($38.5 million) and Get Smart ($38.7 million).
Judged against fellow R-rated comedies, Tropic Thunder again came up short. It didn't make as much as Step Brothers ($30.9 million), and while it did make more than Pineapple Express ($23.2 million), the price tag on that Judd Apatow production was only $27 million, compared to Tropic Thunder's $90 million-ish.
Pineapple Express (fifth place, $10 million; $62.9 million) lost steam, but after two weekends has grossed about what Apatow's Forgetting Sarah Marshall grossed in just under three months.
Star Wars: The Clone Wars pocketed a respectable $15.5 million (third place) en route to the Cartoon Network.
The indefatigable Mamma Mia! (seventh place, $6.5 million; $116.4 million overall) remained indefatigable.
In its second weekend, The Sisterhood of the Traveling Pants 2 (eighth place, $5.9 million; $32.1 million overall) continued to outperform its original.
The new Woody Allen movie, Vicky Cristina Barcelona (10th place, $3.7 million), posted the director's biggest opening weekend since 2000's Small Time Crooks, and, it is noted with the proviso that opening-weekend grosses aren't really Allen's thing, his second-biggest ever on record at Box Office Mojo.
Playing at only 452 theaters, Fly Me to the Moon ($2 million) just missed a Top 10 debut, but recorded the biggest debut ever for a 3-D animated movie produced in Belgium.
Playing at 527 theaters, the Luke Wilson-led indie drama Henry Poole Is Here barely registered with an $800,000 gross.
Two stars of the summer ended their Top 10 runs: Hancock ($1.8 million; $225.1 million overall, per Box Office Mojo), out after six weekends; and, WALL-E ($1.8 million; $214.1 million overall), done after seven weekends.
Journey to the Center of the Earth ($3.5 million; $88.1 million) is out of the Top 10 after five weekends, and into the record books as the second highest-grossing 3-D movie of all time, even if it wasn't exclusively shown in 3-D.
The DOA Swing Vote ($1.2 million; $14.7 million overall) departs the Top 10 after two weekends.
Debuting at two theaters, the French drama A Girl Cut in Two grossed $20,000, more money per screen than any other movie of the weekend.
Here's a recap of the top-grossing weekend films based on Friday-Sunday estimates compiled by Exhibitor Relations:
Tropic Thunder, $26 million
The Dark Knight, $16.8 million
Star Wars: The Clone Wars, $15.5 million
Mirrors, $11.1 million
Pineapple Express, $10 million
The Mummy: Tomb of the Dragon Emperor, $8.6 million
Mamma Mia!, $6.5 million
The Sisterhood of the Traveling Pants 2, $5.9 million
Step Brothers, $5 million
Vicky Cristina Barcelona, $3.7 million