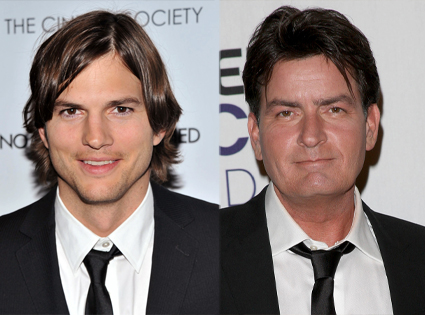 Stephen Lovekin/Getty Images; Stephen Lovekin/Getty Images
Was Hugh Grant just a red herring?
A day after E! News learned that the Brit engaged in ultimately futile negotiations to join Two and a Half Men, trade reports have now pegged Ashton Kutcher as the star who's really on the verge of making a deal to star on the troubled sitcom.
CBS and Warner Bros. aren't commenting on the speculation, but no one is denying it either.
And no, you're not being punk'd.
Kutcher, who hosted the MTV hit Punk'd and got his break playing hot-but-dumb Michael Kelso on That '70s Show, is keeping a lid on it as well.
About an hour or so after the story broke, he tweeted, "I'm starting to become convinced that people put my name in articles just to improve their SEO or hoping I'll tweet it," and about two hours later, a happy face.
Twenty minutes after that, he tweeted a link to a picture of Alec Baldwin's chest hair... But then he followed that up with, "what's the square root of 6.25?"
(Spoiler: It's 2.5.)
According to Variety, the show's creators and CBS were hoping to get Kutcher on board by the network's upfront presentation to advertisers next Wednesday in New York City, but yet keep a lid on the news at the same time.
Well, that rarely ever works!
The fate of Two and a Half Men has been hanging in the balance since production was suspended earlier this year after what was perhaps Charlie Sheen's most prominent round of marathon partying coincided with a trip to the hospital for a supposed hernia inflammation.
Then came a quick stab at rehab, then the media extravaganza, and then the pink slip from Warner Bros.
Sheen, who has since reinvented himself as some sort of guru for the trainwreck-adoring masses, is suing the studio and Men cocreator Chuck Lorre for $100 million.
Kutcher, meanwhile, has reinvented himself as Demi Moore's husband, a Twitter pioneer, a philanthropist and a little bit of a movie star. Does he really want to mess with that?