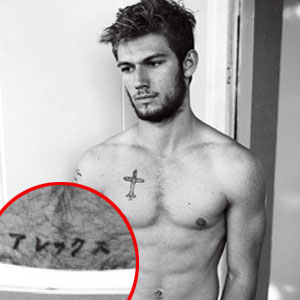 Mario Testino/ VMAN Magazine
Budding Brit stud/actor/turd Alex Pettyfer had no problem trashing the industry that pays his rent, recently calling Hollywood a "sh-thole" in an interview with VMan magazine. But it wasn't his off-color comments—while scandalous even by Tinseltown standards—that left us and our readers hanging (pun intended!):
Of course, we're talking about Pettyfer teasing he has a tattoo just above his family jewels that says, THANK YOU. Always keeping it classy, the 21-year-old I Am Number Four star told the mag he inked the kind words on his nether region for those intimate moments at the end of a date, where he might "forget to say it."
Tons of readers told us to get a clue, the dude was joking.
Was he?
We uncovered a photo from the VMan shoot and clearly visible is something tattooed just above Pettyfer's happy trail. While the word is hard to decipher, the first letter does indeed look like a T.
Pettyfer's rep declined to comment, but a source close to the actor tells us that the tattoo's existence is no joke.
"I think it's true," the insider confided to us about the THANK YOU inking. How charming. With such a romantic expression, how could ex-girlfriend Dianna Argon have contained herself? They're broken up now, so there may be the answer.
At any rate, the only way to really know if Pettyfer has a tattoo is to get him naked. And we here at the Awful Truth are more than happy take one for the team and find out. We're always happy to do our jobs as thoroughly as possible here at AT.
You're welcome in advance, Alex!