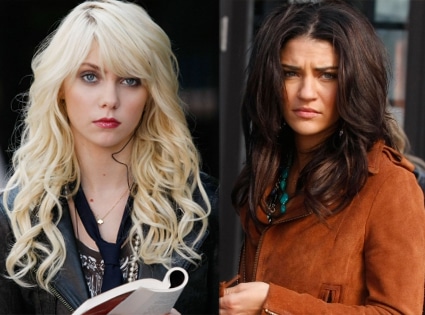 Giovanni Rufino
Attention Upper East Siders and Gossip Girl fans round the world…we are losing two characters come next season.
Sources confirm to E! News that Taylor Momsen and Jessica Szohr will not be returning as series regulars for the fifth season of G.G. So, what's the full story on Jenny's and Vanessa's departures?
According to TVLine, Taylor and Jessica will still be invited back next season for guest star spots, but their full time duties as G.G. castmembers are no longer needed. Which shouldn't come as any surprise to fans, since both of their characters haven't been heavily featured this past season. Vanessa also recently announced she would be leaving to study abroad. But what will be the storyline that leads to Jenny's exit? Speculation is for the comment section, gang.
Meanwhile, Kaylee DeFer, who plays Serena and Eric van der Woodsen's cousin Charlotte, has been promoted to series regular. Additionally, Leighton Meester, Ed Westwick, Blake Lively, Chace Crawford and Penn Badgley are also returning as regulars for the fifth season.
XOXO, ladies.
Happy about this cast shakeup, G.G. fans? Or sad to see Jenny and Vanessa go?