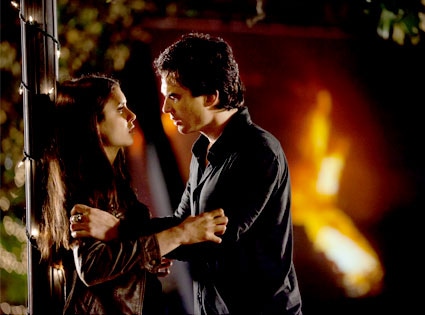 Bob Mahoney/The CW
After four (count 'em, four!) deaths last week on The Vampire Diaries, it's understandable that fans are starting to frantically worry about their other TVD favorites. No one seems to be safe. But is it possible that Damon might not survive this season? It hurts to think about, yes. But TVD is known for throwing us enough twists and turns to make our heads spin. Is one of the holy trinity doomed?
Plus, Smallville takes its final flight this week…so we're asking the fans to help us out for a change! And what kind of future is ahead for your favorite Glee couples? All that, plus scoop on Modern Family, The Office, Nikita and more in this week's Spoiler Chat…
Badgone82: For the last time, after 10 great years, Smallville fans need spoilers, Clark or Clois would be nice! Thanks!
Jeez, way to make us tear up at the reality of the situation. Smallville is almost over! How about this, if we happen to be talking to the entire cast say, oh, we don't know, tomorrow…would you all be willing to send us your questions? Now it's our turn to thank you in advance. Let those Q's rip in the comments!
MiNessa01: Please tell me that Hellcats will get a season two! I love the show!
Looks like lots of people love the show, because Hellcats is still in the running for our Save One Show champion. The rest is up to you guys!
ohemgeeitscoley: Can we get a TVD redux? It would pretty much be the best thing ever.
How about a special finale redux for The Vampire Diaries? You got it.
Christina: Pretty Little Liars?
We're trapping the cast in a room and bugging them for info until they give it all up! Sort of. We're actually just going to be seeing them this weekend at a press event, so we'll get some scoop for you!
aka_savannah: Will this partial werewolf bite kill my poor heart-broken Damon? #TVD
Just from knowing what we know about how TV shows work—like how networks don't let producers kill off lead male characters—we're gonna go ahead and say...no, Damon will not die from the werewolf bite.
lauren_delena: Any Damon and Elena finale scoop? Will they finally kiss? Thanks!
We will say that because Damon (Ian Somerhalder) is going crazy over his werewolf bite, he is capable of doing anything and saying anything. All bets are off and anything can happen when an off-his-rocker vampire is on the loose!
Orchid: Will Lady Gaga ever cameo on Glee?
E!'s own Giuliana Rancic asked Lady Gaga herself that very question, and Gaga told us, "I would love to. We should just work it out. I know that they're doing some more music on the show soon, and they just did the amazing 'Born This Way' episode, so I would love to.Glee's an amazing show. I really like what it stands for."
OurEyesAreOpen: Don't leave us hanging! Anything more you can spill about that cryptic Finchel scoop in last week's Glee-dux?
That was really cryptic, right? Sorry about that, but we're trying to leave some things secret or there won't be any fun surprises left for Glee fans to see on their own! Perhaps this helps: Rachel (Lea Michele) often helps Finn (Cory Monteith) figure out his feelings, either through song or through a conversation, right? In the finale, Finn doesn't need Rachel's help understanding what his heart wants.
Yelyahbosco: Please tell me it's safe to say that the Brittany and Artie relationship is officially over? #glee
Sorry, but it ain't over yet. In case you missed it, this exclusive sneak peek of tomorrow's Glee shows Artie (Kevin McHale) serenading Brittany (Heather Morris) with his "prom proposal".
elisabeth_brj: Anything about Smallville's series finale would be good.
Just have your Superman patterned hankies ready. If Cassidy Freeman is going to cry, then you know you will be bawling, too. "I will cry! And I hope [the fans] cry tears of happiness," she says to us. "It's emotional. Anything ending after 10 years…It's a long time. But that is why we have DVD box sets!" And that's also why we have box sets marathons.
catbird01: Any Grey's Anatomy or Private Practice finale scoop? Thanks in advance.
KaDee Strickland told us about the Private Practice finale, "Can you deny the drama of adding even a single Benjamin Bratt [scene] to an episode? Right there you know something is about to happen. I will tell you, I was so surprised by the very very end. A lot happens to different characters in the finale, a lot of good stuff in there. The final scene of the episode surprised the hell out of me when I read it."
Ella: Grey's Anatomy?
Loretta Devine tells us not to freak out yet about Adele's health. The multihyphenate star told E! News at the Jumping the Broom premiere, "All I know is that I am not dead yet. That is all I know. And I may be back next season to do at least one."
CarterFanboy: What's the word on Happy Endings?
The word is…hilarious. We're really loving this funny show, and coming up we'll see lingering tattoos and feelings. While we generally advise our friends against permanent reminder of a significant other's name, what's the appropriate time after a bad breakup to run to doc to have it zapped off? The answer may surprise you, Dave (Zachary Knighton) and Alex (Elisha Cuthbert).
Tasha in Simi Valley, Calif.: What is with the season finale of Fringe? If Joshua Jackson isn't on the show next season I won't watch!
Fear not: Sources close to the show confirm that Joshua Jackson will definitely be back next season, although no one's saying if it'll be Blue Peter, Red Peter or the brand-spankin'-new Black Peter! 
timmahboy: Parks and Rec! Anything good going to happen with my fav almost-couple Leslie and Ben?!
The remaining episodes are definitely going to be happy times for Ben (Adam Scott) and Leslie (Amy Poehler) fans. But like real love, people have to get belligerently drunk first before connecting for real. Which is why this week's episode is so important.
Jason Merritt/Getty Images
sloanlynn: What are the chances of a One Tree Hill renewal?
Now that most of the actors have signed on for one more season, chances are better than they were a month ago. For example, we just talked with Stephen Colletti, and he is all set for season nine. "They have me if they want me because I am locked in. I already have a deal with them," he tells us happily.
sb1207: OTH scoop? Please! What do the chances of season nine look like?
Sophia Bush is as anxious to find out as much as the fans. "Everyone is hotly anticipating the announcement of whether or not a season nine is going to be happening," she tells us. For what it's worth, Stephen is campaigning hard for a season nine. "I feel like One Tree Hill is a show that deserves a farewell season," he says.  "And I would hope that the network would give us and the fans that because this is mainly for the fans. And then we could figure out how to finish the show with some closure." That statement right there was the biggest truthbomb ever, Stephen. And we salute you.
LexiieHunteR: After the epic-ness of episode 21, I need spoilers for the Nikita finale! The wait is killing me! Please?
We asked Lyndsy Fonseca if Nikita fans should expect a cliffhanger ending in the finale, and this is what she could tell us: "Yes and no. It doesn't end with a shock, like with literally someone hanging off a cliff," she laughs. "But in the last episode so much changes that in many ways, it is one big cliffhanger because so many things are changing and shifting around. But the last scene isn't someone dying or anything. It's the perfect combination."
NikitaMikita1: I'm eager for any scoop on the Nikita finale! It looks like it'll be a killer.
Melinda Clarke is bracing fans for a Percy (Xander Berkeley) and Amanda showdown. "Well, lets just say that Percy is the head of Division, but we have all kind of questioned what power Amanda actually has," she tells us. "Is she the master behind the manipulator? Is she a puppet master? How connected is she?" We bet those are the kind of questions being answered in the finale.
Megan in Studio City, Calif.: Modern Family? Anything?
Ready for more babies? Of course you are! "I think someone is considering another child," Julie Bowen reveals to us. "I am not going to say who because there are three possible couples." Let the speculation begin! Other than that surprise, the finale should be what Eric Stonestreet calls "a really solid and fun episode." And honestly, do you need anything more than that?
Melody: Psych?
Everybody remembers Charlie Sheen was the star of Major League, but not everybody remembers that Corbin Bernsen costarred as a bad guy of sorts, and now Corbin's TV son James Roday will be picking up a baseball bat in his honor. In an upcoming ep of Psych, Shawn "goes undercover as a coach at a minor league baseball team." Can't wait!
Simmony: I'd love anything on How I Met Your Mother!
Alyson Hannigan tells us we'll be getting both answers and cliffhangers in the season finale. "[The writers] always like to give you some answers, but make you excited for the next season as well. So they shouldn't disappoint this year either." Here's hoping we get an answer that has to do with Lily and Marshall procreating. We want Erikson babies next season!
Lainie: Any news on whether Scott Caan will be back on season eight of Entourage?
Yeppers, Scott Caan will definitely be back on Entourage for the final season. Yay, right? Yay!
Kellie: Please tell us anything you know about Michael Scott's replacement on The Office!
All we know is how much fun the guessing game has been. Even Kate Flannery joined in on the speculation. "Craig Robertson could be brilliant. Ed Helms would be a great choice. Everyone brings so much to the party, and it's hard for me to decide," she tells us. One thing she knows for sure: Meredith would not be the best choice. "I don't know if Meredith would be a good boss," she laughs. "That would be a crash and burn." Sure, but it would be spectacular to watch.
sariahda: Gossip Girl, please!!!!
Gossip Girl boss Josh Safran tells us about the two-part finale, "There are lovely moments and thrilling moments in both parts, and I think it's really going to feel like a ride. Last year's finale felt like a descent into despair, because that's what was happening with Chuck and Jenny; this one feels more like a thrill ride with happy uplifting moments and happy scary moments, but not necessarily despair."
Kathleen: Raising Hope!
Believe us when we say, you absolutely cannot miss the May 17 finale. We admit we were skeptical about visiting a time before our favorite TV baby existed. But when we travel back five years, we get to see Jimmy (Lucas Neff) in a whole new moody teenage light. Seriously, it'll blow you away. And bonus, a favorite serial killer mommy makes a hilarious reappearance.
pinsleric: United States of Tara scoop, please?
Things are going to get real real dark for a comedy. Next week we'll meet the new alter. We don't want to ruin the surprise, but we can tell you this one is no fun-loving T or beer-guzzling Buck. This alter is seriously dangerous and makes for the most exciting episodes of the season.
Eliza: Rookie Blue is almost back! Got any scoop?
In the June 16 season premiere, it's all happy domestic bliss until someone takes a bullet. Calm down. Breathe. We never said any of our favorite cops were kicking the bucket…yet. But his episode sets off a whole new season of action and, no doubt, personal complications for the rookies. 
Nelly: Looking for something on The Mentalist...
How about that Patrick Jane actually sees Red John in the season finale on May 19. (And it's about time.)
Taylor: Anything on The Closer? It's my fave show, and I hope they keep it going even after Kyra leaves!
We'll be meeting Lt. Tao's teenage son Kevin—who is present at a murder scene—and we'll learn that Lt. Tao himself is a bit of a tiger dad.