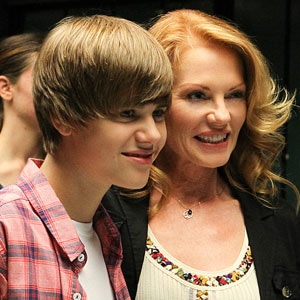 Sonja Flemming/CBS
Can Justin Bieber dish it out but not take it?
In a defensive post on his Twitter page today, the teen heartthrob groused about those not-so-flattering comments CSI star Marg Helgenberger made during a French radio interview when she called him a "brat" for his (mis)behavior on the set.
"It's kinda lame when someone you met briefly and never worked with comments on you," Bieber tweeted. "I will continue to wish them luck and be kind."
Way to take the high road, Justin.
Helgenberger apparently hit a nerve when, after being asked about the Biebs' cameos on the CBS crime drama last season, she was less than complimentary towards his childish antics on the set.
"Justin Bieber wasn't bad," the veteran actress told her interviewer. "He had never acted before. I shouldn't be saying this, but he's kind of a brat. He was actually very nice to me, but he locked one of the producers in the closet. And he put his fist through a cake that was on the table."
While not denying the pranks, Bieber took issue on Twitter not with Helgenberger's remarks, but with the media for reporting them.
"Even last week they had me scolded on a plane in the news because I wasn't in my seat fast enough. She [the flight attendant] was right and I sat down. That's news?" he added.
The 17-year-old singer then tried to put Helgenberger's slam in perspective.
"I know who I am and sometimes people r just going 2 say what they want," he tweeted. "Keep ur head up and be the man ur mama raised."
He concluded with his philosophy on life.
"Rumors are just that...rumors," he wrote. "In the end if you just be kind and be yourself people will know who you are. That goes for anyone I think."
But does Helgenberger's revelation point to a disturbing pattern when it comes to Bieber's behavior?
In May 2010, the Canadian crooner allegedly hurled profanity at a floor manager on an Australian TV show, then took to Twitter calling the report "lies and rumors" and saying his "friends, family and fans know the person I am."
And last September, Bieber was nearly arrested after throwing a water balloon at a state trooper's crotch while backstage prior to his sold-out gig at the Maryland State Fair. Lucky for him, his bodyguard talked the officer out of hauling him off to jail in handcuffs.
Who knows, maybe brattiness is a side effect of Bieber Fever?