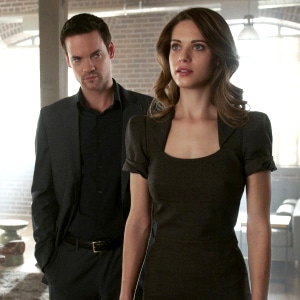 The CW
Tonight's the night, Nikita fans! The past couple of episodes have been full of crazy twists and shocking plot developments, which is all well and good...except we have tons of questions! But if we can only ask one, it's definitely: What the crap is gonna happen next?!
Thankfully, Lyndsy Fonseca is here to help us out in that regard. Well, she can't tell us everything that happens, but she can tell us enough to get us really excited for the season one finale. Plus, Lyndsy reveals her plans for Alex if (hopefully) Nikita gets a season two...
You'd think after finding out Nikita might be behind the death of her dad, Alex wouldn't be able to find herself in a worse position, right? Wrong!
"Alex finds out some extremely devastating news. It completely shakes her up to her core—more than any other news probably that she's ever heard," Lyndsy tells us. "She's faced with a very, very big decision, and we don't really know what she's going to do about it."
And since we're still waiting on renewal news for Nikita, Lyndsy doesn't know of a definite plan for Alex, but she has her own ideas: "I want to start seeing her taking charge, and I really hope that they don't lose the relationship between Nikita and Alex," she says. "Because unfortunately things really go sour between them. I hope Maggie and I don't end up on different shows again. Whether it's love for each other or hate, whatever it may be, [I hope] that they keep that connection alive."
Since Alex straight-up shot Nikita, we're leaning toward hate at this point. And since we're talking about intense feelings, what's to come of Alex's love life?
"That's definitely not her priority," Lyndsy laughs. "Maybe in season two she'll have a love life again."
Christos Kalohoridis/The CW
That obviously led us to mention how fans are frantic for Alex and Owen (Devon Sawa) to get together. "I know! I've been getting so many people on Twitter mention that and I think it's so cute," she says excitedly. "Devon and I have been texting each other, 'Do you believe this?' It's crazy, we've never even had a scene together." True, but don't you know TV fans can accomplish anything? Even get two characters together!
Unfortunately, it looks like an Owen-Alex pairing will have to wait. "It doesn't happen this season, that's for sure. Who knows next season? I think that fans always come up with great ideas and I think a lot of times the writers listen to it. You never know."
Now Nikita better get a season two, because we want to see that happen! Lyndsy tells us that the cast was "very, very positive" about getting a pickup while they were finishing up production. "I think everyone was like, 'I'll see you in a few months,'" she recalls. The good news is that Nikita is kicking ass in our Save One Show competition, a fact that Lyndsy was very excited to hear.
"The fans on my Twitter started their own campaign. They've been completely supportive and amazing from the very beginning," she says. "We couldn't do it without them, otherwise we'd be playing for nobody. Their support has been extremely important."
And for her official "Save our Show" statement, Lyndsy promises much more of what we've come to love from Nikita: women kicking some serious tail.
"Season two will just be even more badass. It's just going to be even more exciting, with even more action, and even more drama" she promises. "I think we're really starting to find our way through the first season, and I'm very confident we would have a very good second season."
Are you guys ready for tonight's Nikita finale? Do you think Division will conquer the rogue team? Scroll on down and air out your thoughts!