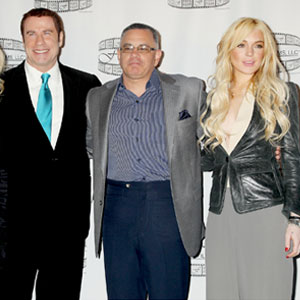 Dave Allocca/Startraksphoto.com
Art is once again imitating life.
While John Travolta has long been attached to Gotti: Three Generations, and will star as John Gotti Sr., his real-life wife Kelly Preston has just signed on to join him in the project, playing the role of John's wife Victoria Gotti, a role that Lindsay Lohan once seemed intended for (fret not, she's still part of the production. For now).
Anyway, as real-life couples playing on-screen loves has a history that's rocky at best, here's hoping this project ends up skewing more Ali than Gigli.
"The love and passion between John and Kelly…will bring a huge benefit to John Sr. and his wife, and to tell you the truth, they have a lot in common," the film's producer Marc Fiore told People. "They both lost a child at a young age and they understand what the Gottis went through when the Gottis lost their child."
Yikes. This may end up being more of a tearjerker than we thought.
In any case, it's turning out to be quite the family affair. The Travoltas' 11-year-old daughter Ella Bleu will also be joining her parents onscreen, playing the part of (here's that life-imitating-art thing again), the Gottis' daughter Angel.
Hmmm…the gang's almost all here. Maybe baby Benjamin can score a gig at the craft service table?