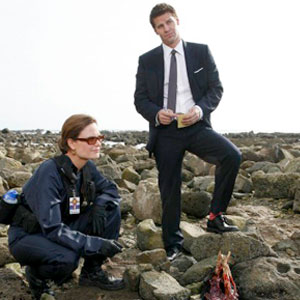 Greg Gayne/FOX
UPDATE: Fox has renewed Bones for a seventh season, it was announced today by Fox boss Kevin Reilly.
Just because we don't have the official annoucement yet, it doesn't mean we can't celebrate some good Bones news! And the news comes in the form of a tweet from star David Boreanaz.
David tweeted Monday night: "Season 7 is GO for Bones." Now, we weren't that worried about Bones' renewal chances, but it was still nice to see one of the faces of the show telling the world that we'll be getting another season. Plus, the Paley Center for Media is hosting "An Evening with Bones" next week, and those events are usually for, you know, shows that will also air next season. Among other shows being honored by Paley: Fringe, Southland, Melissa & Joey, and Falling Skies. But more on all that coverage later.
Thought they won't officially confirm to us yet, we've got a good feeling that Fox will be making the pickup official some time on Tuesday. Now we're just refreshing Hart Hanson's Twitter page to see if the man in charge will echo David's news. And for those keeping score, we are still waiting for any news on an official pickup for House.
So, now that season seven is "go," what kind of storylines are you hoping for Bones (Emily Deschanel), Booth, and the rest?