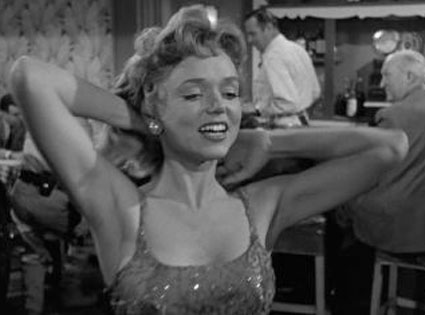 Warner Bros.
Former Playboy pinup and B-movie actress Yvette Vickers died at the age of 82. But it wasn't until a year later—last Wednesday—that her mummified body was found in her Beverly Hills home.
Neighbor Susan Savage found the Attack of the 50 Foot Woman star lying on the floor of an upstairs room, after pushing open a barricaded front gate, "scaling a hillside", climbing through a broken window and pushing through stacks of "clothes, junk mail and letters" to reach her, according to the Los Angeles Times.  
Although Vickers generally kept to herself in the neighborhood, Savage decided to check on her after seeing cobwebs and old letters in her mailbox.
"The letters seemed untouched and were starting to yellow," Savage said. "I just had a bad feeling."
Vickers' body, which was lying on the floor that entire time, was so decomposed that it was unrecognizable.
"We've all been crying about this," Savage said. "Nobody should be left alone like that."
In spite of the circumstances, police suspect no sign of foul play, and the cause of death has yet to be determined by the Los Angeles county coroner's office.
During her career, Vickers starred in horror flicks like Attack of the Leeches and What's the Matter With Helen? and earned a bachelor's degree in theater arts from UCLA. She quickly rose to fame after playing Honey Parker, mistress of Allison Hayes (the titular giantess)' husband in Attack of the 50 Foot Woman.