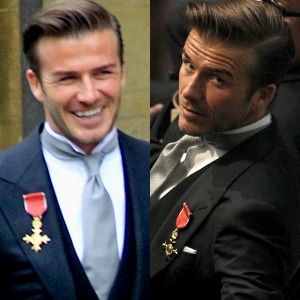 Danny Martindale/FilmMagic; Adrian Dennis/PA Wire
The always fashionable David Beckham nearly suffered an embarrassing royal faux pas during William and Kate's wedding yesterday.
Take a look at the the before and after. Any clue as to what his slip-up could have been?
When Becks arrived at Westminster Abbey Friday morning, he was proudly displaying his Order of the British Empire medal, which he received for his services to British football back in 2003.
Unfortunately, while his intentions were good, his etiquette was a bit rusty.
You see, David was wearing his medal on his right lapel, when in fact, he should have affixed the honor to his left in keeping with proper procedure.
In any event, someone managed to alert him to the error and Becks quickly made the adjustment. Perhaps another OBE member was kind enough to pull David aside and discretely point out the minor oversight. After all, at a royal wedding, chances are there were a few other honorees in the crowd. And on a day like that, no detail, no matter how small goes unnoticed.
We're sure the whole moment was met with a spot of that famously dry British wit.