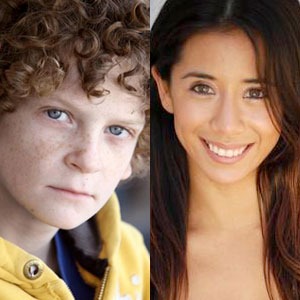 Lionsgate has officially announced the casting of four more actors you've never heard of to play District 4 and 5 tributes in The Hunger Games.
The news comes hot on the heels of Elizabeth Banks announcing she is set to play Effie in the flick, which we're super excited about.
So who are the new names and faces you better start memorizing?
Let's give a big round of applause to Ethan Jamieson and Tara Macken for scoring the roles of...unnamed tributes of District 4!
This will mark Jamieson's first film role, but don't discount his 2009 role as Kid No. 2 on one of episode of One Tree Hill!
Macken is quite a bit more experienced, but as a stunt double for a list of films including Spy Kids 4 and The Lincoln Lawyer. Macken could have a little more screen time than her unnamed male counterpart, as the character forms an alliance with other, named characters such as Peeta.  
And let's all give a warm welcome to District 5 newbies: Chris Mark as Tribute Boy and Jacqueline Emerson as FoxFace, a nickname given to the character by Jennifer Lawrence's Katniss.
Lucky for Emerson, the actress probably won't have to memorize a single line to play FoxFace, as the character never says a one word throughout Suzanne Collins' novel. Ironic, considering one of Emerson's only previous roles was as the voice of a donkey in NBC's ill-fated cartoon comedy Father of the Pride.
Tribute Boy Chris Mark will be coming into The Hunger Games with similar experience to fellow newbie Macken, as the actor worked as Michael Cera's stunt double in Scott Pilgrim vs. the World.
The four new tributes join a list of other newcomers signed on for the flick. Hope they're all ready for their close-ups!
"Welcome to The Hunger Games. May the odds be ever in your favor..."