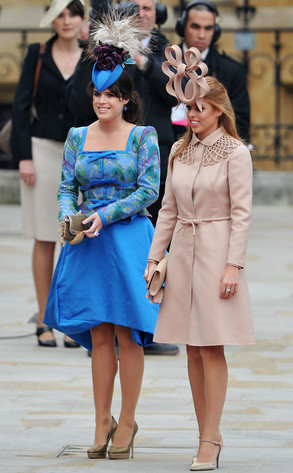 Pascal Le Segretain/Getty Images
We may never again see hats as ludicrous as the ones worn by Princesses Beatrice and Eugenie to their cousinPrince William's wedding.
British royals love their over-the-top headgear, and this great state occasion was no exception.
Whether they were royals proper like the princesses, or just international celebs like Victoria Beckham, the nobility in attendance went all out with the extreme toppers—except for the Prime Minister's wife Samantha Cameron. She took a rebellious, non-conformist approach by wearing no hat at all, instead choosing to finish off her look with a jeweled clip. (Unforgivable violation of crazy-royal-hat etiquette or no big deal? Discuss in the comments!)
So which wacky wedding hat was tops? Click through the gallery and decide for yourself!