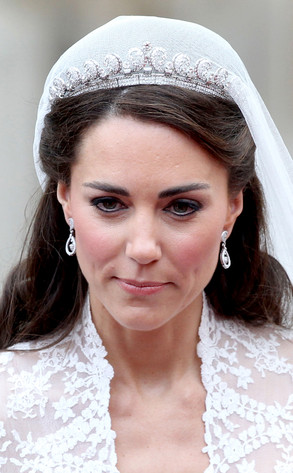 Chris Jackson/Getty Images
Kate Middleton's won major kudos for her Alexander McQueen by Sarah Burton wedding dress—a "flawless success" gushed the New York Times—but the verdict's still out on her makeup.
In keeping with her populist approach to the special occasion, the bride insisted on doing her own face. "Daring considering all the portraits she'll be taking. I think it's kinda cool," tweeted Giuliana Rancic from London, where she was covering the royal nuptials for E! News.
"Kate allegedly did her own make-up because she wanted to William to recognize her when she walked down the aisle," expounded Fashion Police host George Kotsiopoulos. "Um, who else would be in a big white gown and a veil?! She looks absolutely beautiful but less or no liner under her eye would have given a much cleaner look."
Of course the bride wasn't completely without help. Kate reportedly took lessons from makeup artist Arabella Preston to prep for her look—a down-to-earth blend of blushing pink cheeks and matching lips accented by soft smoky eyes.
So what's your take on Kate's natural beauty approach? Vote below!