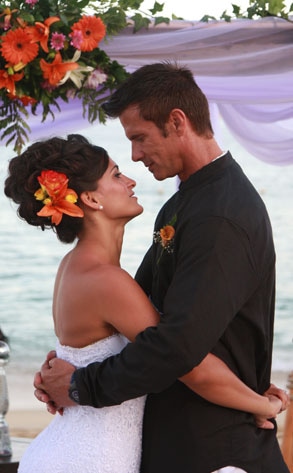 FlashCity
You've got give the guy some credit for trying.
Four marriages down the drain, yet small-screen beefcake Lorenzo Lamas continues to believe in the virtue of love, marrying his 24-year-old fiancée Shawna Craig today at the Casa Dorada Resort in Cabo San Lucas, Mexico.
While the bride wore a traditonal white gown with a long train, Lorenzo wore white pants, a black long-sleeved shirt and flip-flops for the beach wedding overlooking the Pacific. The 52-year-old casual romantic proposed to the model in February over dinner at Mr. Chow's in Beverly Hills after dating for a less-than-whopping three months.
Although his new bride is younger than his oldest daughter, Shayne Lamas, she approves.
"They are both really excited and seem very much in love, so they of course have my blessing," Shayne tells E! News.
Shayne, her new baby bump and husband Nik Richie were among those in attendance at the ceremony, which took place at the five-star Casa Dorado Hotel.
Congratulations to the newlyweds!
—Additional reporting by Whitney English