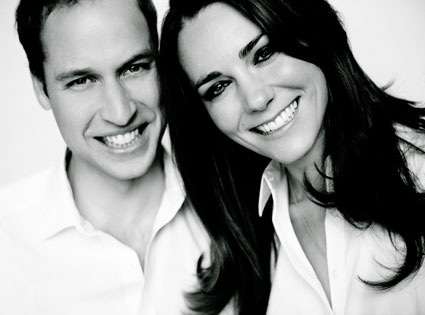 Mario Testino/Art Partner
We're just hours away, folks, from the day the world's collective Disney-reared, fairy-tale dreams come true. When plucky commoner done (very, very) good Catherine Elizabeth Middleton will wed William Arthur Philip Louis Windsor, the people's Prince Charming (sorry, Harry).
But before they do, we will—that is, tell you everything you could possibly need to know about Prince William and Kate Middleton's big day, henceforth to be known as The Most Important Wedding of Our or Any Time. What? Too much?
Nah, we didn't think so, either. So, if you can't tell your van Straubenzees from your Parker Bowleses, if you want the head-to-toe (to dress!) details on Kate's wedding attire (please, who doesn't?), if you absolutely need to know which celebrities scored the most coveted invite of the century, want to experience a royals' eye view of the wedding route, need to set your watch to the exact moment of Kate and Wills' first kiss, or if you simply need a break between stuffing scones and Pimm's cups down your gullet, then this is the cheat sheet for you.
So pinkies up, tails out and fascinators on, everyone. We've got a royal wedding to explore!
Mario Testino/Clarence House Press Office via Getty Images
Where to start? How about the beginning…
THE ENGAGEMENT
Will and Kate announced their engagement to the world in a press conference on Nov. 16 at St. James' Palace, but he actually popped the question—and proffered his mother's old 18-carat sapphire and 14 diamond engagement ring—the month before while the duo were vacationing in Kenya. Cue the hysteria!
THE TITLES
It's going to be a big day for both Kate and William, but husband and wife aren't the only titles they'll inherit on Friday. Prior to their trip down the aisle, Queen Elizabeth is expected to announce which titles of nobility and peerage, if any, the duo will be receiving. They're expected to be given at least two: an English title (in all likelihood they'll be made Duke and Duchess) and, since their kingdom is indeed a united one, a Scottish title as well.
THE INVITATION
Here's what 1,900 of Wills and Kate's closest friends received in the mail earlier this year. It's 8 inches-by-6-inches, with gilded and beveled edges. Fancy! The invite also handily lays out the dress code for the event, and specifies "uniform, morning coat or lounge suit" for the guests. In other words, tops and tails as far as the eye can see.
Getty Images, Mario Testino/Clarence House Press Office
THE DRESS
Or is that dresses? While it isn't unusual for high profile brides to commission more than one dress, Kate has reportedly commissioned three—no doubt safeguarding herself in case the details of one leak out ahead of time (barring some eleventh hour security breakdown, she seems to be safe). Speculation has been rife since the engagement was announced, with everyone from Jasper Conran to Issa to Temperley to Bruce Oldfield to Emanuel (the couturier of Princess Diana's wedding dress) to Alexander McQueen among those rumored, at one time or another, to be in charge of The Dress. A week before the wedding, the most likely contender appeared to be Libelula designer Sophie Cranston, though she quickly denied it. "We are not designing Kate Middleton's dress," the label said. "We, like everyone else, can't wait to find out who is!"
One rumor gaining traction in the lead up to the wedding is that Kate herself has designed the gown with help from a label. Whatever the case, the gown is expected to pay homage to Diana's own wedding dress. It will also, per tradition, include a train, as Kate donned a prop piece when she rehearsed her 300-foot walk down the aisle.
As for William, his outfit—which no one seems to have given too much of a toss about—will also remain something of a secret up until the big day. He's due to wear an as-yet unrevealed military uniform during the service, but expect medals and sashes as far as the eye can see on both him and Prince Harry.
THE PRIMP FACTOR
Kate obviously doesn't need much help in getting herself to princess-caliber beauty, but she's getting it anyway. Four hairstylists, among them Richard Ward (the man responsible for her engagement announcement blowout), James Pryce and two members of their beautifying team will be on hand to pamper Kate and her bridesmaids. As for her bridal 'do? Ward confirmed that her tresses will "100 percent be down and flowy…Every bride's hair on their wedding day should reflect their look throughout the year. Kate's such a natural girl, so no stuffy up-dos for her." Her entire prep will take place at the Goring Hotel, just down the road from Buckingham Palace.
THE GUESTS
Kate and Wills no doubt long ago gave up hope of keeping the ceremony intimate, and fittingly sent out wedding invitations to 1,900 of their closest friends (we know, ours got lost in the mail, too. Damn you, postal service!). So who made the cut?
First of all, here's the breakdown: 250 guests were jointly invited by the royal couple; another 250 were selected by Prince Charles and the Duchess of Cornwall, Camilla Parker Bowles; 100 were invited by Kate's parents, Michael and Carole Middleton; and just 50 were selected by the queen.
Among those invited: David and Victoria Beckham, Elton John, Joss Stone, Guy Ritchie (we'll spare you the head-scratching…he's Kate's sixth cousin twice removed as well as a friend of the couple), photographer portrait artist Mario Testino and Rowan Atkinson. Longtime royal pal Holly (daughter of Sir Richard) Branson is among the more high profile members of the glosse posse due to turn up, as are Princesses Eugenie and Beatrice and Prime Minister David Cameron, while Prince William broke with staid tradition and invited his close aides, including his private secretary, his former nanny (aww) and his former headmasters. Adding glamour to Kate's side of the aisle (and no doubt sparking a new round of wedding dress rumors) is Issa designer Daniella Helayel.
The ex files were also seriously rifled through to pad out the numbers, with Prince William's former flames Jecca Craig, Olivia Hunt, Arabella Musgrave and Isabella Anstruther-Gough-Calthorpe (behold the rare triple-barrel!) among those who RSVP'd. Not to be outdone, Kate invited her own pre-Wills university beau, Rupert Finch, and her earlier Marlborough dalliance Willem Marx to the ceremony.
All 27 crew members of C Flight 22 at RAF Valley in Anglesey, where Wills works—as Flt. Lt. Wales—also scored invites.
But it turns out, you don't have to be on such familiar terms with the couple to have nabbed a save the date card: the grocers, mailman and local tavern owner from Kate's hometown of Bucklebury were also among those who scored the Holy Grail invite.
THE WEDDING ROUTE
Want a royals' eye view of the wedding? You got it.
Instead of traveling to the ceremony via horse and carriage, Kate will be driven to Westminster Abbey by car. Afterwards, husband and wife will hop into a carriage together head back via the same procession to Buckingham Palace, waving to the cheering crowds along the way.
THE PRESS
Time will tell if the ceremony draws more viewers than Prince Charles and Diana's wedding—which holds the record with a likely vastly overestimated 750 million—but this wedding almost certainly boasts more media, as 7,000 journalists have been accredited to cover the event. Only a chosen few will actually be allowed inside Westminster Abbey.
Chris Jackson/Getty Images
THE WEDDING RINGS. ER, RING
Yes, William has decided not to wear a wedding band (what with the signet ring already on that hand, it was going to get rather clunky). But Kate will. And we're guessing that sparkler will blind half the western world. Keeping with royal family tradition, the ring will be forged from Welsh gold, and will likely have a slight pink or rosey tinge to it, as the royal family's reserve comes from a Welsh mine that's also abundant in copper. The specific jeweler won't be identified until the wedding day.
THE SCHEDULE
What's happening when? We have so got you covered.
THE WALK DOWN THE AISLE
"Here Comes the Bride?" Please. For her three-and-a-half-minute walk down the aisle, Kate has eschewed the strains of the wedding classic in favor of the far more magisterial "I Was Glad," Sir Charles Hubert Hastings Parry's choral number from Psalm 122. (It's a traditional wedding tune in England, but was originally composed for the crowning of Will's great-great-great grandfather Edward VII's coronation in 1902. Shout-out!)
THE VOWS
To love, honor and obey? Not in this modern monarchy. Instead, Kate will promise to "love, comfort, honor and keep" her new hubby. And for those following along in your hymnals at home, the couple will be using the Series One Book of Common Prayer for their ceremony.
Pool/Anwar Hussein Collection/Getty Images; Jamie Wiseman/WPA Pool/Getty Images; Dan Kitwood/Getty Images
THE RECEPTIONS
A whopping 600 of the 1900 guests have been invited by the queen to a reception she is hosting immediately after the ceremony at the palace. In lieu of a traditional sitdown wedding breakfast, Will and Kate requested buffet-style service. For the bash, 21 chefs will craft 10,000 hot and cold canapés (works out to 16 per person) including smoked salmon on beetroot blinis and quail eggs sprinkled with celery salt.
Later, the list will be whittled down again, as 300 of those 600 will be heading back to Buckingham Palace for an evening reception to be hosted by Prince Charles. A further reception (and here's where they'll start to let their hair down), also for around 300 people, is expected later in the night at Buckingham Palace, where state rooms will reportedly be transformed in order to accommodate a more typical, dancefloor-heavy reception. The queen is not expected to attend those festivities, which will likely go on late into the night. No details have been publicly released on those activities, however, as they are considered private events.
Now, if only there was some way we could picture the festive atmosphere… (Warning: you cannot unsee Prince Charles breakdancing.)
THE COST
Here's a figure to throw at future fathers of the brides to show them that, really, it could be so much worse. Sure, finding love with a prince is priceless, but the ceremony celebrating that love isn't. The royal wedding is estimated to tally up to anywhere from $10 million to a whopping $70 million.
The bill for the ceremony and reception will be foot predominantly by the royal family, though the Middletons also graciously vowed to put six figures toward the cost of the festivities. Their portion will cover a specific aspect of the celebration, such as pay for the couple's honeymoon, rather than simply go toward the overall fee.
Jamie Lowther-Pinkerton, Wills' private secretary and no doubt the most stressed-out wedding planner in the world, said, "All parties involved, not least Prince William and Miss Middleton, want to ensure that a balance is struck between an enjoyable day and the current economic situation. To that end, the royal family and the Middleton family will pay for the wedding—the church service, music, flowers, decoration, reception and honeymoon."
The costs of policing, street cleaning and public security, however, will be picked up by the taxpayers and could be as steep as $32 million.
THE PARTY POOPERS
Remember those anarchists who shook the car of Prince Charles and Camilla Parker Bowles earlier this year? They've made no secret of their disdain for the pomp and circumstance surrounding the royal wedding and could possibly be planning a disruption. Though despite the obvious international targets that are Westminster Abbey and Buckingham Palace, London's finest say there is no terror threat to the nuptials, and police have been scouring London's drains, lampposts and traffic lights for hidden weapons and explosives in the run-up to the big day. Phew!
THE WEDDING SINGERS
Universal Music Group's Decca label will release the soundtrack of the wedding ceremony both through the iTunes store the day of the event and, later, on CD (ask your parents, kids). In return for the coup, UMG pledged to make a donation to charity. Among the artists set to be featured on the big day are the choir of Westminster Abbey, the Chapel Royal Choir, the London Chamber Orchestra and the fanfare team of the Central Band of the Royal Air Force.
Among those songs to be played by the LCO upon guests' arrival at the Abbey will be the 1980 piano piece by British composer Sir Peter Maxwell Davies, "Farewell to Stromness," which also featured in Charles and Camilla's 2005 blessing. What else should your finely tuned ears be listening out for? "Greensleeves," for one. Some traditional hymns for another. And quintessential British tunes by composers Sir Edward Elgar, Benjamin Britten and Vaughan Williams.
Mario Testino/Clarence House Press Office via Getty Images
THE WEDDING CAKES
Yes, that's plural. The couple plan to serve two cakes at their reception: a traditional dried and candied fruit-laden cake, which will be covered with a thick layer of marzipan (mock all you want, it's a British tradition), and a cake reminiscent of one Will used to eat during his childhood, made primarily of chocolate digestives, a British biscuit cookie favorite. The McVitie's Cake Company will be making the groom's cake for the reception, as well as a few hundred extra slices for the breakfast buffet. All told, they sweet concoction will use about 1,700 Rich Tea biscuits. As for the fruit cake, Kate had significant input as to its design, and it will feature a heavy British floral theme, with 16 different symbolic (frosting-based) blooms and foliage to mark the occasion. Its layers will include raisins, walnuts, cherries, lemon, grated orange and French brandy and will be made by cakemaker extraordinaire Fiona Cairns.
THE GIFTS
In lieu of presents (or prezzies, as the Brits delightfully call them), Kate and William have rather poignantly asked for donations to anti-bully charities, an admission, most believe, of Kate's own history of being badly taunted and ostracized during her early school years. But look at her now, eh?
THE PEOPLE'S HOLIDAY
That's one way to ingratiate yourself to the British public: almost as soon as it was announced by the couple, the government stepped in and declared the wedding day of Prince William and Kate Middleton to be a national public holiday. Prime Minister David Cameron even encouraged citizens to hold street parties earlier this month, more or less telling them to ignore their local civic councils' warnings that they might need permits for particularly large celebrations. "I'm very much saying today if people want to have a street party, don't listen to people who say it's all bureaucracy and health and safety, and you can't do it," he said. "It's very important to understand if anyone wants to have a street party, you don't need a food license, you don't need an entertainment license, you don't need to have written documents about closing your street…If you do want to celebrate with Catherine and with William, you should go ahead and do so."
THE HONEYMOON
This is being kept almost as secretive as Kate's wedding dress. However, some clues have popped up, mostly thanks to Kate's pre-wedding shopping trips down the High Street. Her rampant sundress purchasing points to a warm weather locale, and while Mustique, Seychelles, Corfu and Australia emerged as early favorites, the most likely choice for the newlyweds is shaping up to be Jordan (as it happens, King Abdullah and Queen Rania will be wedding guests).
Said to have made the cut onto the itinerary is the historic site of Petra (fun fact alert: it's not only been named one of the new Seven Wonders of the World, but it was the backdrop of Indiana Jones) and the valley of Wadi Run (ditto for Lawrence of Arabia), and even nearby Amman, where Middleton and her family lived for two years. The Palace has refused to comment in an attempt to keep the vacation as private as possible. Good luck with that.
THE HAPPILY EVER AFTER
What happens after the wedding of the century? Anticlimax, thy name is North Wales! The couple will set up house in a remote, five-room, whitewashed farmhouse on the Isle of Anglesey without any servants or domestic staff of any kind. Somewhere, Camilla just got the vapors. The duo will remain in town until William completes his training as a search and rescue helicopter pilot with the Royal Air Force.
Now, let the countdown for the royal heir begin! Just kidding. Um, kind of...