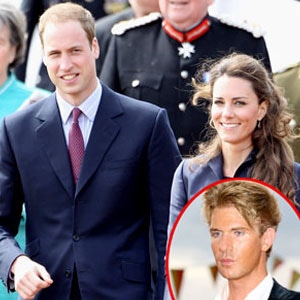 Chris Jackson/Getty Images; Neil Mockford/Getty Images
They may be the future king and queen of England, but they're also just college sweethearts who fell in love over some 8 a.m. fry-up before class.
So says Prince William and Kate Middleton's old college pal Ben Duncan, who attended St. Andrews with the duo and now exclusively spills to E! News the details of how Wills fell for his bride-to-be…
Duncan describes the prince as "social" but "very low-key" back in his college days and Kate as "very sporty."
"She's what we in Britain call a 'jolly holly sticks girl,' " Duncan says. "She was always at a sports game, she was always organizing, she's a natural leader. She was always in charge of something."
Now, about those breakfast moments. Duncan tells us that very few students were willing to attend the 8 a.m. outings to the food hall, but somehow Wills and Kate always managed to find their way there if the other was rumored to be going.
"They sat at separate tables, he with the boys and she with the girls," Duncan says. "But they would have noticed each other there, because not many people got up for breakfast at 8."
OK, so eyes meeting over breakfast...but when did they fall in love?
"The moment in question, of course, is the Don't Walk fashion show," he says. "It was the end of their first year. I was there, and in person there were a lot of attractive girls. She was in a very daring dress, in a sheer stocking-like dress. He was sitting front row and his eyes were like stalks."
Duncan also says any rumors that they hooked up prior to that night are just not true.
"Absolutely not," Duncan tells us. "We all have little boxes that get ticked, and he found her attractive. He made a concerted effort to have something to do with her."
And will it be happily ever after for them based on what he's seen?
"I believe in the monarchy," he said. "You've got two young people and they're determined to make a go of things. I do believe in them. No one knows what goes on in a relationship unless you're in that relationship and I'm increasingly cynical about marriage. But who can't be happy about them? I do believe in them. I believe in their marriage."