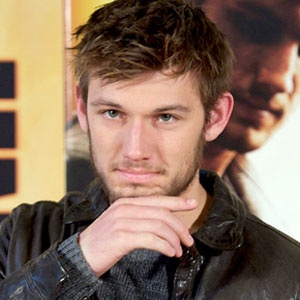 Carlos Alvarez/Getty Images
Excuse us while we cease alternating between gasping and laughing. Because the interview young and recently single actor Alex Pettyfer just gave the seasonal VMAN magazine—the male spinoff of V magazine—is beyond stunning.
The 21-year-old, who had one explosive, literally, and messy breakup with Glee's pretty gal Dianna Agron, is officially off his English rocker. And he did not censor a thing in demonstrating his crazed hatred of Los Angeles.
Wonder if the producers who ultimately didn't choose Alex for the plum role of Peeta in The Hunger Games had an inkling of scandalous things to come?
Possible. Not only does the I Am Number Four star trash the town that made him rich, but he shows off his misogynistic mouth, to boot. Could you imagine a man like this being the lead figure in a brand-new major movie franchise?
Ironically, in the interview Pettyfer vouches he doesn't drink or do drugs, but the dude has to be on something to have the audacity to say some of the things he did.
Let's start with some of his personal body art, or rather, one major physical flaw.
He revealed to the magazine that he has a tattoo above his crotch that reads thank you. "In case I forget to say it," he explained while winking.
So, Dianna was supposed to look at Alex's crotch every time she did something sweet for the dude? This pathetic excuse just validates how lucky Agron should feel for getting out, pre big time explosion.
Regardless of his career take-off, Alex had some ungrateful, vulgar words for the L.A. lifestyle, even telling the reporter he was well aware that every sick word would be printed and that he found it "f--king funny." The jackass proceeded:
"L.A. is growing on me a little bit but it's still a s--t hole," Pettyfer spewed. "I think it's this insidious pool where nearly everyone lives in fear. Geographically it's fantastic, but socially it's disgusting. I wish they'd run all the c--ts out."
Whoa. Got a problem with the ladies, dude? We sure hear you do.
The crude actor also mentioned, of course, that he cannot stand red carpet events.
"I really don't give a s--t about any of that," his potty mouth persisted. "I wish I had some interesting stories about living in L.A., but mostly I just do my work and then go home."
To top his Hollywood-bashing fit, the awfully cute SOB went on to fully diss the Industry and some of its greats:
"Being an actor is like being in prison," the once aspiring actor said. "You go, you serve your time, you try and replicate Johnny Depp's career and then you move to Paris."
Maybe you should consider fleeing the planet, Pettyfer. If not, you could always stay and remake The Three Stooges with Charlie Sheen and Mel Gibson.