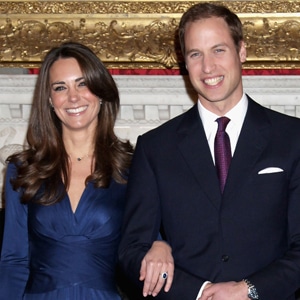 Chris Jackson/Getty Images
All around Westminster Abbey, you see them—hulking men wearing black combat boots and carrying backpacks. And if you look closely, you can see the earpiece.
They're the massive team of undercover security hired to patrol Westminster Abbey and the streets surrounding the enormous church in preparation for the royal wedding of Kate Middleton and Prince William.
With Britain's intelligence service on high alert after the splinter group of Irish-nationalist terrorist the Real IRA threatened violence on Queen Elizabeth II, security has gotten tight, a guard stationed across the street from the Abbey told E! News.
And potential terrorists aren't the only ones being watched.
The guard, who did not wish to reveal his name, said with the wedding approaching fast and more press and tourists moving in, security has been ramped up like he's never seen before. He even pointed out some undercover guards to our untrained eyes.
"This is huge deal, isn't it," he said. "The day of, security will be crazy, for sure. They're just walking around, eyes and ears."
Both Scotland Yard and a metropolitan police force of nearly 5,000 are on high alert after the Real IRA were said to be "highly likely" to stage an attack to coincide with the wedding, according to ABC News.
But that's not the only thing security has its eye on.
Across the street from Westminster Abbey, nearly 60 homeless protestors live in tents, venting on everything from unwanted taxes and the Iraq War to the queen herself.
One of the protesters told E! News that the assembled group is prepared to stand its ground—peacefully—if the police try to force them from their spots…which are directly along Kate's route from Buckingham Palace to the church on Friday.
"It remains to be seen if we have to move," said Mark Williams, a member of the group Peace Strike who has lived in a tent outside the church for ten months. "The carriage will go exactly past here and there are certain actions that have been taken against us. Legally they can't move us, because it's a legally registered campaign. We have to obey the law; we're into responsible peaceful protesting."
Williams told us that there's been chatter that they may be arrested the morning of the wedding.
"If they find a way to arrest us, which I don't believe they have, I think that's the only tactic left for them. It's something that may happen. Any actions taken against us so far have been through the courts, we haven't heard anything for over six weeks now."
The "peace camps" constructed from makeshift tents and wooden shelters have become such a fixture that, according to the chatty security guard, even the Queen has checked them out.
"She drove by in a old-fashioned Bentley around two months ago—you could see in—and she put her head in her hands, shaking it. She looked very upset after she saw them all there," he told us.
But protester Williams says barring any arrests, they will continue to protest peacefully, taking a break to support Middleton as she goes past on her route.
"We'll cover our display units with messages of support," Williams said of the groups plans. "We're in the process of making sheets reading 'May you live happily ever after' and 'Good luck, Kate and William' to cover the tents, which will be in place the day before. We will certainly have a flag of some kind. I'm neither pro- nor anti-monarchy, so I do wish them the best."
As do we.