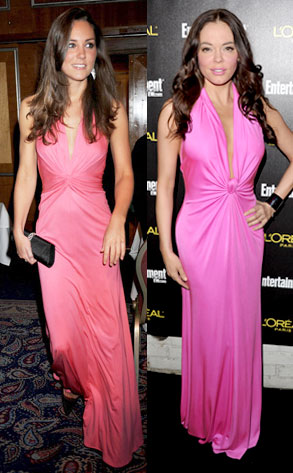 Alan Davidson/Picturegroup; John Shearer/Wireimage
Are you ready for a royal rumble?
In one corner we have the soon-to-be princess, Kate Middleton, stepping out in this sleeveless, coral-colored Issa gown with black heels and a satin clutch to the Boodles Boxing Ball back in 2008.
In the other corner is Grindhouse queen Rose McGowan, who wore her hot-pink plunging halter with silver shoes and a matching clutch to a SAG Awards preparty this January.
So which regal glamour gal looks best in her slinky gown? Vote below and then get the final results Friday at 10:00 p.m. on Fashion Police's Royal Wedding special!