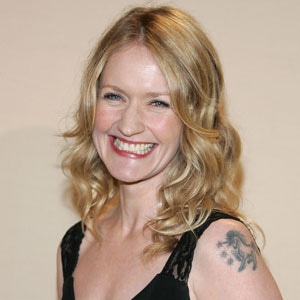 Frazer Harrison/Getty Images
Congrats to Paula Malcomson, whom most of you should know from the Battlestar Galactica prequel, Caprica, because she just landed the role of Jennifer Lawrence and recently cast Willow Shield's onscreen mother in The Hunger Games.  
Even though some would beg to differ on how huge of a name Malcomson is, we are intrigued that Lionsgate is finally starting to semi-stick to casting by the book.  
Especially because they picked an actress who can cry so expertly on cue!
This is beyond perfect since in the books Katniss and Prims' mom is grieving the loss of her husband. Those talented waterworks will sure come in handy, lady!
Malcomson's character is also pretty paranoid when it comes to her daughters, constantly living in fear that they, too, will leave her and die in the dangerous Hunger Games.
We have pure and utter faith that Paula will rock this role, even though some people will try to drag her amazing talents down as B-list.
It's no surprise, though, because she's in great professional company—no-name newbies included.
As we still wait on the final verdict regarding whether Elizabeth Banks will actually get lucky and join the rest of this fab cast as Effie, we'll bitch about Haymitch until the day these Games end.
So who's it going to be? Robert Downey Jr., Gerard Butler or is Lionsgate going to ease readers' minds and go with Hugh Laurie? Our vote's still Mr. Brad Pitt, regardless.
That casting team must be waiting to pull out the big, top of the A-list guns for Haymitch. There's no other logical explanation.
The first installation, which hits theaters in just under a year, is bound to be scripted to focus on the Hollywood stars Lawrence, Liam Hemsworth and Josh Hutcherson.
That's who we are all going to see. Well, we'll also be ready to get annoyed at how not on point the flick is with the series.
Bombs—and tissues—away, mommy Paula!