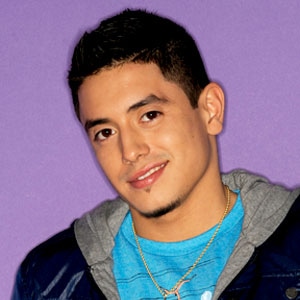 Frank MIcelotta / FOX
Say what?! Who goes on American Idol not wanting to win? Well, Stefano Langone does just that—or so he claims, after the fact.
The morning after being booted off the Idol stage, he isn't wondering what he could have done differently to stay. Instead, he's thinking about his future and making sure his self-proclaimed "brother," James Durbin, is doing all right after last night's emotional meltdown. So what's Stefano's next move now that he's off the No. 1 show in America....and how did he console James after the cameras stopped rolling?
We reported last night that James was an emotional mess after Stefano's elimination. When he stormed offstage in tears and obvious discontent, we saw a new side of James. But while James took the elimination hard, Stefano himself says it was never his intention to make it all the way.
"When I came out for American Idol I never wanted to be the American Idol," he said, "It was getting my foot in the door of the music industry and taking a step forward in that way. I am so happy about my experience, so thankful for all of this and blessed.
"What I came out here to do, I did it. I succeeded. I got to lucky No. 7, and it doesn't really reflect on who I am as a musician or a performer at all. It's a show. That's one thing you've got to remember, it's a show, and now it's time for me to really move forward. There's a wide open crowd and market out there right now, and I'm ready to pounce on it."
As for James' postshow meltdown, Stefano says he was able to talk him down by reassuring him that everything was going to work out the way it's supposed to. 
"I told him not to worry about me," Stefano told us. "I did everything I set out to do on this show and it's going to pay off and I'm going to do great. I told him, 'Just keep focusing on the show and what you gotta do to keep succeeding and I'll be back in a couple weeks.' I talked him down a little bit. He's a big crybaby."
The pair have been close buddies and roommates since Hollywood Week, making it extra hard to say goodbye, but James guarantees Stefano will be an intricate part of one of the most important days of his life.  
"He's a brother to me, and I'm going to be his best man in his wedding," Stefano said. 
As for Stefano's future in music, well, he's pretty confident he'll have a career as successful as established stars John Legend and Stevie Wonder.
"I have the range of Stevie Wonder," he said. "I have that range and I have that soul, especially when I get on the piano. People haven't seen that John Legend feel. I have a lot of stuff in the bag that I haven't really shown yet. I haven't gone and done my original stuff, I haven't gotten behind the piano and shown vocally what I am capable of. I am really going to show the world not just what I can do on American Idol but in the music industry the kind of impact I can make."
Those are some pretty big shoes to fill, but Stefano is nothing but excited.
"I cannot wait to start this long and successful journey."
Do you think Stefano has the talent of Stevie Wonder? Do you believe he didn't want to win Idol? Does James emotional meltdown make you love him more? Let us know in the comments!