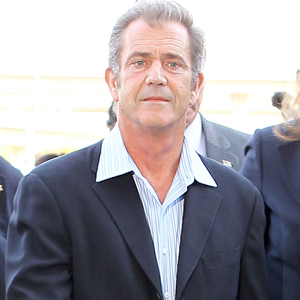 Raef-Ramirez/GSI Media
Mel Gibson is talking. (Quietly, and in a reasonable manner.)
"Who anticipates being recorded? Who anticipates that? Who could anticipate such a personal betrayal?" the actor said in his first sit-down since recordings of him lashing out at baby mama Oksana Grigorieva hit the Internet—and he ultimately pleaded no contest to hitting her.
"Of course" Gibson feels regret about what was on those tapes, he says, according to the interview obtained by Deadline Hollywood. But he also claims that the leaked tapes "were edited" and that he has "never treated anyone badly or in a discriminatory way based on their gender, race, religion or sexuality—period."
"You have to put it all in the proper context of being in an irrationally, heated discussion at the height of a breakdown, trying to get out of a really unhealthy relationship," Gibson says. "It's one terribly, awful moment in time, said to one person, in the span of one day and doesn't represent what I truly believe or how I've treated people my entire life."
He says that "no one expressed any anger" at him after the tapes reared their ugly words, though "they may have felt it."
As for the charge that he hit Grigorieva, with whom he has a year-old daughter, Lucia, Gibson pointed out that he was able to "end the case and still maintain my innocence."
"I could have continued to fight this for years and it probably would have come out fine," he figured. "But I ended it for my children and my family. This was going to be such a circus. You don't drag other people in your life through this sewer needlessly, so I'll take the hit and move on."
But while longtime friends like Jodie Foster, who directed him in his latest film, The Beaver, and Whoopi Goldberg controversially expressed their support—"I always liked her and loved her. I like her even more now because she got it," Gibson says—the one-time box office superstar knows that he almost certainly did irreparable damage to his career.
"I don't care if I act anymore," he says bluntly, calling it the truth.
"I'm beyond [people judging him], way beyond that. The whole experience has been most unfortunate. And so it's not without all the downside."
"I could easily not act again. It's not a problem," Gibson insists. "I'm going to do something now because I want to do it and because it's fun. I've already pulled another job and it's going to be fun. I don't know if it's going to get off the ground, but I'm going to go work for [Braveheart scribe] Randy Wallace again...it's almost like Alexander Dumas—like that swashbuckler kind of stuff."
"But it's funny," he added. "Randy writes a decent script. And I responded to it right away. I thought, This is hilarious. I've got to do this. And I'm not the main guy in the film—which is great."
Speaking of which, Gibson was also asked how he felt about being passed over for a cameo in The Hangover Part II, which like the first film will feature Mike Tyson, a convicted rapist.
"You have to let that go," he said. "I sat here and talked to [director Todd Phillips] about it. I like Todd. How could you not like Todd?"
But, "It shows you a few things. You just move on and go OK. I'm not greatly offended by it. It seemed like a good idea at the time and it went south."
Citing all the legal stuff "still pending," Gibson couldn't affirmatively answer when asked about the rumored $16 million settlement Grigorieva had received.
"Everybody has a dog in the fight but me, oddly enough," he said. "I haven't got a lawsuit out on anyone because I think it's extremely...You have to think about your children. That's all there is to it. I can't really discuss this. There are a lot of delicate and sensitive issues and I don't want to be the cause of grief to any of my children or to friends or family or associates on either side because it's a matter that should be dealt with."
Even if he weren't under a court order, he added, he likes to think he'd still choose to "stay mum."
"It doesn't do any good [to air the dirty laundry publicly]," Gibson said. "Maybe, when this is all over and hopefully, justice is achieved, maybe I could say something. But I'd never want to leave anything lying around that would...A lot of damage has been done. I don't want to add to it."