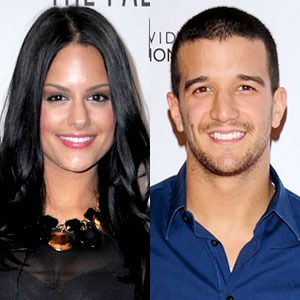 Alberto E. Rodriguez/Getty Images; Giulio Marcocchi/Sipa Press
Mark Ballas and Pia Toscana sure make for one cute couple.
The newly-linked reality TV duo proved it when they hit L.A.'s Sushi Roku restaurant earlier this week for dinner and drinks with friends.
They returned to Roku for dinner just last night, but this time the paparazzi showed up. Ballas and Toscano avoided being photographed together by leaving through separate exits.
So what are Ballas' Dancing With the Stars pals saying about the American Idol castoff?
"She's adorable," Chelsea Hightower told us last night at T-Mobile's Sidekick 4G launch party in Beverly Hills. "I think she's a great girl and he's a great guy."
"I like her," chimed in her celeb partner Romeo.
"I have met her," Hightower said. "Mark's one of my best friends, so I wish him all the happiness and success in the world. If he's happy with her, I'm happy for him."
Sure, Toscano's already performing for Ballas on next Tuesday's episode of DWTS, but let's not get ahead of ourselves.
Exactly how serious is their relationship? Hightower avoided officially confirming the romance by coyly smiling, "I think they're still just friends right now but I don't know..."
Guess Ballas' besties are good at keeping a friend's secret safe.