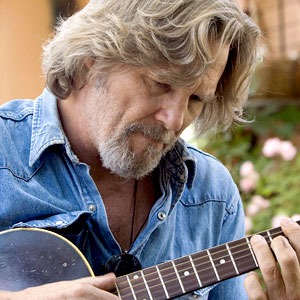 Lorey Sebastian/Fox Searchlight
Bad Blake is back.
After earning an Oscar for his role as a washed-up country legend in 2009's Crazy Heart, Jeff Bridges is trying his hand at a real-life music career with word that he's about to record his debut album.
Maybe they should call it The Dude Sings!
The 61-year-old actor has been enlisted by EMI's Blue Note Records to work with his old pal, Grammy- and Oscar-winning producer T Bone Burnett, on the record which will drop in late summer, the label announced today.
Bridges first met Burnett when Kris Kristofferson introduced them during filming of the 1980 movie Heaven's Gate, and they've remained friends ever since. In fact, T Bone went on to contribute several songs to the soundtrack to 1998's The Big Lebowski before helping Bridges win his first Academy Award by overseeing the soundtrack to Crazy Heart and cowriting some of its biggest hits, including "The Weary Kind," which won Burnett an Oscar as well for Best Original Song.
Bridges will write original compositions for the release, which will include guest appearances from a number of artists, including Rosanne Cash and Sam Phillips and guitar virtuoso Marc Ribot.
Could a Grammy be in Bridges' future?