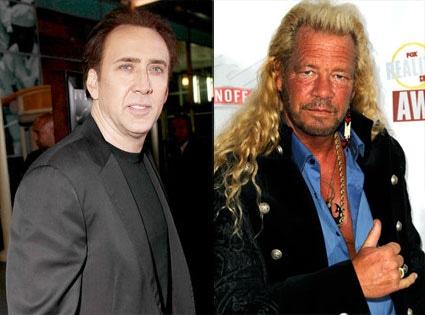 Todd Williamson/WireImage; Frazer Harrison/Getty Images
Duane "Dog the Bounty Hunter" Chapman isn't just good for locking up the bad guys: He'll also bail out a friend in need. Literally.
 
The reality star posted Nicolas Cage's $11,000 bond, after the Knowing star was arrested on charges of domestic violence, disturbing the peace and public drunkenness Saturday morning in New Orleans, E! News has confirmed.
"Media from around the world have been requesting interviews with me today after reports surfaced about my posting a bond for actor Nicolas Cage in New Orleans," Chapman said in a statement to E! News. "I am a truly dedicated fan of Mr. Cage and will not be granting any interviews about my client as I wish to respect his privacy. I performed my duties as a bail bondsman and not in connection with our show. This is what I do for a living. There are two sides of my job: I release my clients after they have been arrested; and pick them up if they don't show up in court. I do not believe the latter will be the case for Mr. Cage."
 
Following Cage's bail-out, Dog's wife, Beth Chapman tweeted, "My guy just walked out of the jail damn new Orleans 8 hours holy cow that's a lot of time toProcess one guy."
(Originally published on April 16, 2011 at 6:37 p.m. PT)