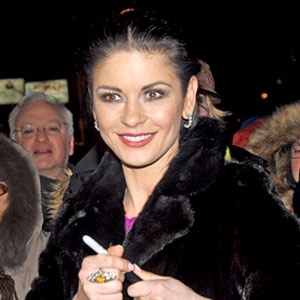 Bobby Bank/Getty Images
Michael Douglas wasn't the only one facing some dark days this year.
After supporting her husband during his successful cancer treatment, Douglas' wife, actress Catherine Zeta-Jones briefly checked herself into a mental-health facility for treatment of her bipolar disorder, her rep confirmed to E! News.
"After dealing with the stress of the past year, Catherine made the decision to check into a mental health facility for a brief stay to treat her Bipolar II Disorder. She's feeling great and looking forward to starting work this week on her two upcoming films."
All told, the actress spent about five days at the unidentified facility, a friend of the actress told People.
Zeta-Jones is about to start work on a movie and wanted to make sure she was fully prepared for it, said her pal.
"There's no question it's been a stressful year," the friend said. "Catherine has had to deal with Michael's illness and that's been hard. She went in for a few days because she's about to start working, and wanted to make sure she's in top form, which she is."
Douglas, 66, has been declared cancer free by docs after six months of chemo and radiation for throat cancer. The couple has also been dealing with Douglas' son Cameron's prison sentence and his ex-wife Diandra Douglas still gunning for half his take from Wall Street: Money Never Sleeps, arguing that she's entitled to a portion of his gains because he first played the role of Gordon Gekko in the original Wall Street while they were married.
Perhaps exacerbated by other stressors, Zeta-Jones recently (but understandably) lost her composure when she was swarmed by a pack of photogs in London and punched by an aggressive paparazzo after attending a ceremony honoring her film and charitable work.