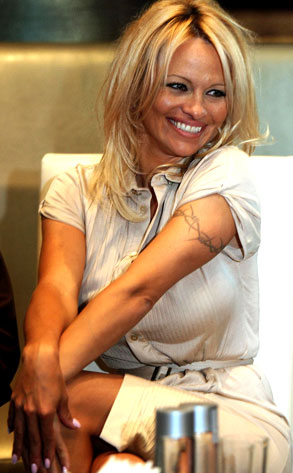 MARWAN NAAMANI/AFP/Getty Images
If things go well for Pamela Anderson and her new man, she could soon become royalty.
Anderson has been quietly seeing a man from the United Arab Emirates. And he's not just any man—the dude is a member of Abu Dhabi's royal family, a source exclusively tells me.
The blond bombshell star of E!'s new Pam: Girl on the Loose is being tight-lipped about the mystery beau, but we've got some details for you...
She's actually only revealed his name to a few friends, so she usually refers to him by a pet name: Milk-Sheik, or Milk for short.
Most recently, they were spotted hanging out with friends this weekend at the Abbey, a gay bar in West Hollywood. "He's very handsome," says my source.
Anderson apparently met her new beau when she visited Abu Dhabi in June with the Make a Wish Foundation. Since then, she has announced she is partnering with the royal family to build an ecofriendly hotel in the area.
The longtime PETA activist's hotel will be a vegan-friendly resort featuring things such as organic linens and bath products not tested on animals.
In early June, Brad Pitt also announced that he was also developing a green hotel in neighboring Dubai.