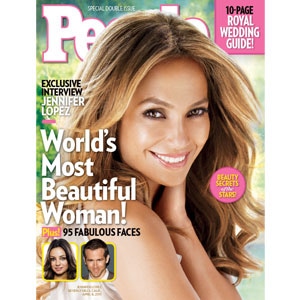 People
It's official: Jennifer Lopez is the prettiest woman in the entire world—well, according to People magazine anyway, which has unveiled its latest Most Beautiful issue, picking the singer-dancer-actress-mom-model-judge as its choice for World's Most Beautiful Woman. 
"I feel not worthy, you know?" was how Lopez reacted to the mag when she found out the news. 
The American Idol judge, looking absolutely flawless on the spring-inspired pink and green cover, discussed with the mag her makeup-free days from the show,  skin-care regimen, diet, kids and hubby Marc Anthony.
Read on to find out when the mom to twins Max and Emme is the happiest...and who else was happy to join her on People's Most Beautiful list...
On landing the 22nd annual "World's Most Beautiful" coveted cover spot, Lopez said she felt "happy and proud" after the initial shock wore off.
"It's so crazy. Rarely am I left speechless, but I feel honored."  the hard-working reality judge and L'Oréal model said, adding that she feels better now than she did in her 30s.
"I feel better, I feel smarter," she said.  "In my 20s, I just wasn't there in my mind and my soul and my spirit.  It's just great to be in the position I'm in now and be able to share that with the world."
As for her striking beauty and that gorgeous face, Lopez says the real trick to her glow is due to the abundance of "love" in her life and insists that the real beauty in a person comes from their heart. And J.Lo says that even though she's considered hot, she doesn't get any compliments from men because "they're afraid of Marc."
After revealing that she was prematurely gray at 23 and that her upper thighs are a real problem, it's on to the topic of her famous booty: "It became this huge thing. No pun intended!" she says.
The 41-year-old also spent some time clearing up other "big" rumors: No, her body is not insured for a million dollars; no, she doesn't have a diamond-encrusted toilet seat or a glam squad of 50; and yes, she spray tans.
The other beautiful people in the mag's double issue are listed in subcategories of hotness; here are a few of our faves:
In the "Not a Drop of Makeup," pages, 10 women were snapped looking fresh-faced in nothing but moisturizer and lip balm. Dancing With the Stars turned Footloose star Julianne Hough is stunning in a full-page closeup. Joy Bryant, Anne Heche, Kaley Cuoco, Mandy Moore, Nikita star Maggie Q, Pretty Little Liars star Lucy Hale, Cheryl Burke, Angie Harmon and Hayden Panettiere all made the list. 
The mag's got the older eye candy covered too, picking 57-year-old Christie Brinkley as the leadoff in that category; she credits her youthful look to blotting her makeup with a wet washcloth after applying.  Also making the list are Stacey Dash, 44, Lucy Liu, 42, Jennifer Beals, 47, and Dana Delany looking superhot at 55. 
In the "Beautiful Minds" category, Ivy League intellects Anna Paquin, Jordana Brewster, Tatyana Ali, Amanda Peet and Ellie Kemper and The Office star Mindy Kaling all made the list for their smarts. 
Watch out, curves ahead! Listed under "Year of the Bombshell" are hourglass honeys like Jessica Simpson, Sofia Vergara, Paula Patton and Christina Hendricks, who says she's probably at her sexiest while "at home cooking." 
A huge chunk of the mag is dedicated to stars' beauty sleep. Katie Holmes gets six hours a night, while newly single Jessica Biel counts sheep and has insomnia. Halle Berry needs nine hours, while Christina Aguilera and Jessica Alba get a solid eight. Cutie Amanda Seyfried needs 10 hours, while Beyoncé usually can't shut off her brain for the night. 
And finally, some familiar names are back, with some "Hall of Famers" making the list—again and again and again. Berry leads with a whopping 15 times, with Julia Roberts coming in second with 12 appearances. This issue marks Lopez's 10th "Most Beautiful" appearance, tied only with George Clooney, followed by nine-time hottie Brad Pitt. 
Hats off to all the Hollywood hotties who made the list!