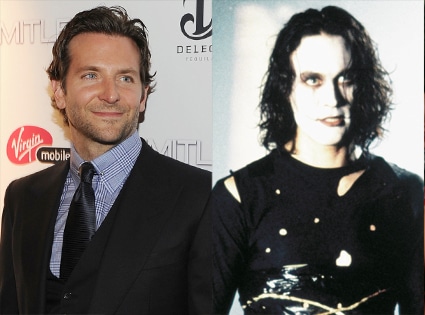 Larry Busacca/Getty Images; Miramax Films
Interesting footsteps for Bradley Cooper to want to follow in.
A source confirms to E! News that the Limitless star is in talks to star in a remake of the 1994 revenge thriller The Crow, based on a cult-favorite comic book series but sadly far more notable for the fact that 28-year-old star Brandon Lee was killed during filming.
The story centers on a rock musician who is murdered along with his fiancée and, through supernatural forces, comes back to life to dispatch the evildoers in increasingly creative ways.
Juan Carlos Fresnadillo (28 Weeks Later) is on board to direct.
A critical and box-office hit that featured some fierce performances, the 1994 original would have been a gut-wrencher even without the back story: Lee died on The Crow's North Carolina set in 1993 when a blank cartridge was fired in his direction and a piece of bullet somehow flew out along with it, hitting him in the abdomen. The fragment lodged in his spine and he died of his injuries at a nearby hospital. 
Director Alex Proyas had to rewrite various scenes that hadn't been completed yet and had to ramp up the special effects to place Lee in the posthumously shot scenes.
Two uneventful sequels were made and, it goes without saying, we hope to not hear one word from the set of the remake until the entire movie is in the can.