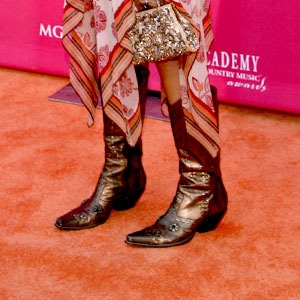 Michael Buckner/Getty Images
Nashville, Tennessee, is known as the home of country music, and now it's officially home to one of country music's biggest (and youngest) stars.
So who's the cowboy-boot-wearing crooner earning extra brownie points with their fam?
Mazur AMA 2010/WireImage.com
It's Taylor Swift!
"Nashville is home. It's my favorite place on earth," Swift told Jay Leno while appearing on The Tonight Show earlier this month. "Nashville is where I live. I love it more than anywhere in the world."
Makes sense then that 21-year-old Swift purchased her family a new large, traditional, brick home in Nashville—an upgrade from the family's previous (but still not too shabby) 8,396 square foot, five-bathroom, $800,000 home.
Other than spending time with her family, another reason Swift loves Nashville is "because the Country Music Awards there are like the Super Bowl," the songstress explained to Leno. She then proceeded to do her best Southern accent, imitating her neighbors, saying "Good luck, Taylor, bring it home this weekend, bring it home."
Not that Swift needs any luck in the awards department; Tay just took home Country Music's Entertainer of the Year at Sunday night's 46th annual ACM Awards.
But could a Nashville dinner date with a certain Country Strong star have anything to do with Taylor's eagerness to post up in the South?
Taylor's rep couldn't be reached for comment regarding her new abode.
Still, we're so into Swift and Garrett Hedlund playing house together in Nashville!
—Additional reporting by Claudia Rosenbaum