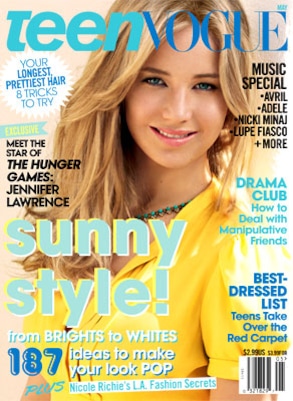 Teen Vogue
When young movie star Jennifer Lawrence opened up to Teen Vogue in this month's issue, one thing that had us shaking our heads at the lucky and talented actress who nabbed the most vied for role in Young Hollywood was her whatever-esque attitude about the series.
Is this gal—who's totally on the way to A-list stardom—really deserving and grateful for landing the hottest young female part of the year?
Very. Even despite one blasé slip about the gig.
Rushing off from her interview Lawrence tells the hip fashion mag's editor, "Sorry, I want to stay and talk more, but I have to go do this Hunger Games thing."
No, not the new sci-fi movie series that will blow Twilight to glittering smithereens, not the most talked about casting situation at the time, not the next friggin' movie franchise—a thing.
But before the world gets to hating on Lawrence's casual, offhand comment, she bounced back smashingly by letting readers in on her personality, proving she's just too mellow to take everything, including H'wood, über seriously.   
Robert Pattinson, you in there? Jennifer may just be the carefree lad in lady form! Makes us pant even heavier for Twilight to end and the Games to begin.
Although the Oscar nominee made most of The Hunger Games talk off the record, she did spill to the editor on being a gamer herself and loving Katniss' likable traits:
"The cool thing about Katniss is that every fan has such a personal relationship with her, and they understand and know her in a singular way," the beautiful 20-year-old dished. "I'm a massive fan too, so I get it."
The fact that Lawrence was such a Hunger enthusiast before casting must have given her a boost since the flick's director, Gary Ross, has said Lawrence was "the easiest casting decision I've ever made in my life."
Now that's a compliment to be squealing over, not shrugging off. Talk about the definition of unfussy!  
Aside from beating around the bush during the interview, Jennifer stole our hearts after we discovered she is totally the dude next door.
"I was a cheerleader for six years, but I also have this totally competitive side. I'll wrestle anyone at any time," she said steering away from any new movie talk.
Still, that competitive fighter in her will make Jennifer all the more capable come production time. As will this: "I was the manliest cheerleader. I had the lowest voice," Lawrence added. 
Cute, but dark! We bet it gets British actor and her rumored about X-Men: First Class costar-turned-BF Nicholas Hoult going. Who wouldn't love a raspy, chill gal like Jennifer?
As for Lawrence officially taking on Katniss, we're glad this doll won't let anything go to her head. We saw how that didn't work out for some on the Twi cast.
Here's to being the first young actress not to go Vicey on us!