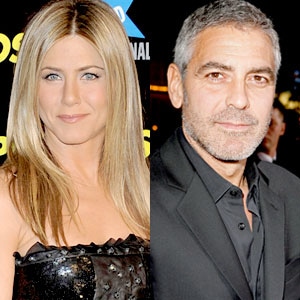 Carlos Alvarez/Getty Images; Jeff Vespa/WireImage
Jennifer Aniston knows what will finally shut the world up about her single status—running away with George Clooney.
The famous Friends star tells U.K.'s Red magazine that although she might be giving up on dating altogether there is always the Clooney option available. After all, he's the other megastar who's constantly being pressured to get hitched and have some babies.
So what's Aniston's plan for the duo?
After the interviewer suggests that both Aniston and Clooney endure intense public pressure to find their soul mates and settle down, Aniston agrees that perhaps the two of them can run off and just make a family.
"That would definitely shut up the world," she laughed. "I could call up George, say, 'Hon, let's just get hitched and have kids...' I should take George to lunch and we can figure out how to put an end to all this...Ha! Well...No."
Millionaire Matchmaker Patti Stanger did offer up this hot coupling two years ago. And Jen did possibly spark some jealousy from Clooney's gal-pal Elisabetta Canalis. Plus, with Clooney being ex-hubby Brad Pitt's bestie, it would be the ultimate revenge.
Clooney fantasies aside, after her relationships with Vince Vaughn and John Mayer ended, Aniston says she just can't deal with dating any longer and that the idea of meeting a man in Hollywood is "ridiculous."
"I'm not a big fan of dating. You have to normalize it. You would die otherwise. But no, I'm not a big fan of dating. You have dinner with male friends and it's instantly, 'That's the new man.' The phone is ringing off the hook from your publicist saying, 'Did you have dinner with so and so?' and it's, 'Yes, I did and no, I'm not,'" she told the mag, saying that it's her acting career that inspires her these days.
Acting, she says, is "essential" to her, and she protects her work "like a momma lion protects a cub." And as we know, she loves her friends, whom she considers family.
"The people to pick you up when you need lifting? We come from homes far from perfect, so you end up almost parent and sibling to your friends, your own chosen family. There's nothing like a really loyal, dependable, good friend. Nothing," she says.
The Just Go With It star was just back from promoting the movie in Europe, and talked about relaxing in bed inside her Beverly Hills pad—alone.
"There's a lot of down pillows," she said. "I'm a pillow girl so I can create the closest thing to a cloud that I can."
She moved on to the topic of her successful perfume and spilled on some of her own favorite scents—the smell of a fire going, cherry blossoms, jasmine at night in the summer and a man "anywhere" on the beach.
Aniston, 42, says she's in a great, exciting place right now and is "elated" with the prospect of what's to come in the near future: a potential move to New York, two new films and working more behind the scenes.
 And on the topic of lasting love, Aniston insists romance and a career are not mutually exclusive.
"You have to have a balance in life," she said. "You also have to have your own personal love. What inspires you, what excites you when you wake up in the morning?"