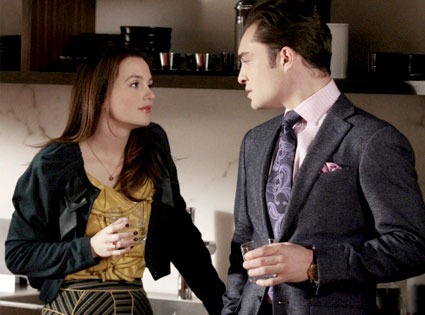 GIOVANNI RUFINO/ THE CW
It's almost time for sweeps, peeps; and as every good fan knows, the TV episodes in April and May are the best of the best, which means hookups and breakups for some of our faves.
So does Blair stick with Dan, run away with a Prince or finally get engaged to Chuck on Gossip Girl? Are Kurt and Blaine a long-term proposition on Glee, or just a flash in the pan? And which surprising Seattle Grace couples are showing up at Callie and Arizona's wedding on Grey's Anatomy? We've got the answers to all those burning questions, plus scoop on all your other TV faves, including True Blood, The Killing, The Vampire Diaries, House, Nikita and many more!
Jordan from Grand Junction, Colo.: When does Friday Night Lights premiere for non-DirecTV viewers? Please tell me soon! I definitely need a good Tim Riggins fix right about now!
Friday Night Lights season five premieres April 15 on NBC. I know, it's almost here! We're just as excited, and we've already seen every episode. Season five is that good. And spoiler alert: Tim Riggins is all up in this season, so you'll get more than enough Taylor Kitsch.
sb1207: Is this the last season for One Tree Hill? So many rumors!
Well, tomorrow we'll be talking to Kate Voegele, who plays Mia Catalano on OTH, so you best believe we'll get the scoop for you! Anything else you wanna know from her? Besides how she gets her lips so plump?
DesiPuspandini: Anything about #CHUCK please!
We'll be on the set of Chuck this week, so please standby for a boatload of scoop! You're welcome in advance.
ammysin: Anything new on Blaine/Kurt on Glee? Can't get enough of those two!
Neither can we. That's why we were so psyched when Darren Criss told us that Blaine and Kurt (Chris Colfer) have real staying power. "They're in the honeymoon stage, and they've just recently gotten together, so that's really new and exciting like any new relationship is," he says to us. "I think [Blaine] has something really special with Kurt. It's not just a flash in the pan kind of crush."
Bagelsvswaffles: True or false: Tina from Glee has some kind of storyline coming up?
True. In fact, the "Night of Neglect" episode is all about those New Directions members who haven't been in the spotlight in awhile. "It's about people who have been neglected, and now they have the opportunity to show what they've got," Harry Shum Jr. tells us. Who has been on your Glee neglected list that you hope will soon get some serious screen time?
kec0309: I need more #Glee scoop! What can we expect when Jonathan Groff returns as Jesse St. James?
Even though our first assumption would be that Jesse is returning to woo Rachel, he has another motive up his sleeve (which is most likely a leather jacket sleeve, of cours). But don't worry, Jesse's motive isn't evil. He's just trying to help out a friend. But even if his motive was evil, who cares? The Groff is back!
YELYAHbosco: There is lots of speculation about Glee's Santana and her sexuality, any scoop on her upcoming storyline?
"She's definitely a lesbian," Brad Falchuk tells us, forever putting to rest the question of her sexuality. Now that we cleared that up, Santana won't be over Brittany anytime soon, so instead of dealing with it, she kind of runs from it. And she'll be running into the arms of…a dude.
Maggie in Lexington, Ky.: Glee, por favor!
The bosses over at Glee are looking to cast someone to play Jarod, a high school student with Down syndrome. Perhaps he'll have some kind of relationship with Becky (Lauren Potter)?
filigree_apogee: Any good news for Chuck/Blair fans?
Yes and no. First the good news: Dair haters can breathe a sigh of relief—that Dan (Penn Badgley) and Blair (Leighton Meester) nomance nonsense appears to be over. That doesn't mean they've stopped kissing...but their last liplock is just for show (but to a much bigger audience than they intended, oops). And now for the really bad news:
BonnieClyde19: Anything else happening with Chair on Gossip Girl? How about Chuck, will we see him mature?
Mature Chuck (Ed Westwick) does make a brief appearance in the coming episodes—but so does Party Chuck and Player Chuck, whom Blair wants nothing to do with.
wrightst3: Is there anything coming up on Gossip Girl for Chair fans to get excited about?
If by "excited" you mean "distressed and overwrought," then yes, you are about to get very excited. And speaking of excitement, Queen B herself has caught royal wedding fever, but not even the opportunity to wear Princess Di's dress is enough to lure Blair back to Chuck's side. Especially when another Prince Charming sweeps her off her feet. Want more Chair stuff? Of course you do, so check back later this week for more on the Upper East Side gang from Gossip bosses Stephanie Savage and Josh Safran, including promises about Chair and a really tantalizing tease about…Dan. Yes, you heard us: Dan goodies. You know you want 'em...right?
SourceAmbs: I'll keep it simple. Please give me anything on Vampire Diaries!
Then we shall keep it simple, too. Someone will be dying. Elena (Nina Dobrev) will be crying. Stefan (Paul Wesley) will be smoldering. Klaus (Joseph Morgan) will be creepin'. Oh, and Damon (Ian Somerhalder) basically tells Stefan he sucks at the one thing he's supposed to be good at...protecting his lady love.
ReRecoli: Can we get any spoilers on Damon and Elena? We are all dying for more scenes of them.
The moves Damon and Elena share during the '60s dance have more heat than Stefan would probably like to see. And it might have just been us, but when Damon started grooving with Bonnie (Kat Graham), Elena looks a little…jealous.
Ashley A.: Callie. Arizona. Wedding. Spill.
The latest Grey's Anatomy wedding airs in May, and it's a bee-yoo-tiful girly ceremony. Bailey (Chandra Wilson) officiates, Teddy (Kim Raver) attends with trauma shrink James Tupper as her date (where's pretty Scott Foley?!), plus Alex Karev (Justin Chambers) goes with Kepner (Sarah Drew), and Lexie (Chyler Leigh) goes with Jackson (Jesse Williams). Sorry, Slexie fans. And in another intriguing twist, Meredith (Ellen Pompeo) and Derek (Patrick Dempsey) are nowhere to be seen in the pews. Whatever could they be doing that's more important than the Callizona wedding? Hmmm…
Ali: I'm dying for Ava and Raylan to get back together on Justified. Any chance of that?
Sorry, lady. It's not looking good for an Ava-Raylan reunion, not this week or even next. Why, you ask? Ava's (Joelle Carter) love life is heating up again, but this time with Boyd (Walton Goggins). Those shacking up ex in-laws turned frienemies turned roommates finally take the next sweet and sexy step. (Yay!)
Lynda from Lansing, Ill.: Last season on Nurse Jackie wasn't Zoey pregnant? Please answer this question for me, its driving me crazy!
Nope, she just had a scare. No bun in the oven for Zoey (Merritt Wever)! Which is a good thing, because she has enough to deal with this season, what with Lenny (Lenny Jacobson) trying to take their relationship to the next level and such. 
StellarChick85: Any news on U.S of Tara?
The breaking news is…that this season is awesome. In next week's episode called "Wheels," Charmaine (Rosemarie DeWitt) gives birth to Tara's niece. Of course the episode's complications are not with the baby but with Tara (Toni Collette) and her friendly alters. Charmaine cannot trust them around her daughter. Fun fact: We've already mentioned the new baby's name somewhere above. 
DCLost1231: Is The Killing just going to be this one season or is it going to continue with different crimes in the following seasons?
"At this point we're going to organically follow the story, and whether or not it gets solved at the end of the season is a mystery," executive producer Veena Sud told critics at the TCA panel for AMC's intriguing new mystery in January. Meanwhile, next week look for an older man—not dodgy mayoral candidate Darren Richmond (Billy Campbell)—to emerge as an unlikely suspect next week in the murder of Rosie Larsen. Also in Sunday's ep, we'll learn that Rosie's dad Stan (Brent Sexton) may have a darker past than we've so far known about (eek!), and Battlestar Galactica standout Callum Keith Rennie returns as Linden's much put-upon fiancé, and this time he's…creepy.
Kidder: Any Modern Family scoop? I've missed that show.
Modern Family back this Wed., April 13 at 9 p.m. with an all-new ep that's destined to be a classic. Phil (Ty Burrell) has the minivan wrapped in an advertisement for his real-estate business featuring his wife (Julie Bowen) and daughter (Sarah Hyland) as models. Of course, the blurbs that Phil puts next to their faces read more like sexual come-ons than business pitches, so the ladies are mistaken for hookers throughout town. Good times!
Jenna from Chicago, Ill.: I really need to know what's going on with How I Met Your Mother. I love Barney and Robin. I read your Spoiler Chat last week, and it seemed to me that this relationship is completely through. Is it possible to squeeze out a little more information from you about whose wedding we will be watching May 16?
We wish could tell you all about the wedding, but that would ruin the fun of watching the episode. And trust us, you do not want to be deprived of the awesome-ness that is the wedding reveal. All we can tell you is that the episode does end in a cliffhanger, so when you discover whose wedding we're watching, you'll probably end up with more questions to be answered then ever before. And just between us, keep on keepin' the hope alive for Barney and Robin.
Nick in Nashville, Tenn.: I loved Breaking In! I'll definitely keep watching, but only if you give me some scoop on what's coming up!
The Contra Security gang is about to hit up Comic-Con! They're in charge of guarding, get this, the DVD of Goonies 2. Too bad Ninja Turtles are plotting to steal it away from them. Damn those turtles! Bonus scoop, someone in the group dresses up like a Na'vi from Avatar. Can you guess which character gets blue?
coreenie_k: Squee! The ending scenes of Nikita rocked! How long do we get the hotness of a Mikita coupling?!?
At least as far as the morning after. Pillow-talking? Yes, please! Nikita and Michael are about as hot as a TV couple can get. Except when you add Devon Sawa in the mix, then it's just a whole other mess of hotness. Devon's got a whole Jeremy Renner thing going on, and we are digging it. But back to Mikita, Michael will do something that is only considered sweet in the Nikita world, and it involves kicking some ass!
Leo: I cannot wait for the girl fight coming up on 90210! Can you tell me anything about it?
Only that the stuff leading up to is hilarious (prank war!), and that the stuff following the fight is downright heartbreaking. Not heartbreaking for Silver (Jessica Stroup) and Navid (Michael Steger), but for Silver and Adrianna (Jessica Lowndes).
Sara in Canton, Ohio: I love, love, love Naomi and Max together on 90210. That's happening, right?
Oh, it's happening in all the ways you can think of. And for the record, we love these two together, too!
L_Vlaho: True Blood!
A set spy tells us that True Blood is heading back into the Louisiana wilderness—and it seems that somebody might be going a hunting expedition. One True Blood stage is currently being filled in with dirt, and another is festooned with dead animal carcasses, possibly deer. Mmm…which supernatural creatures have a taste for deer? (Besides Cullens, of course.)
tbm1192: How about some #Leverage?
How about scoop on Danny Glover's guest star stint? Victim or villain? "He's a good guy," Aldis Hodge assures us. "We're trying to take on his case, [but] he doesn't necessarily want us to be there. We're kind of a nuisance to him. But our characters finally find our speed together and get to the bottom of his story. This entire episode is his story. Very rarely do we do an episode where our victim is so important throughout the entire storyline—usually we are focusing on the villain and what they have done. This one is all victim. It's all his story, which is amazing."
davidkretschmar: Smallville scoop? Lois and Clark: Super-powered couple?
Ha! Super-powered couple. We see what you did there. We'll have an extensive Q&A post with writer/producer Kelly Souders about the end of Smallville later this week, but for now just know that she promised fans that they'll be happy with all the moments in the season finale, and that includes the Lois and Clark ones.
CloisForever23: Can we please get some Clois scoop? #Smallville
We bugged Kelly about finally seeing Lois and Clark make it down the aisle, and while she insisted she had to keep her lips tightly zipped on that subject, she did offer this: "We will certainly be seeing a lot of white, taffeta, some silk and some flower boutonnières and all that sort of stuff." Sounds like things are about to get fancy!
giurodrigues: Pleaaaase tell something about Hellcats!
Glutton for punishment, eh? Well, then, next Tuesday's ep features the squad versus zombies in a choreographed fight/dance sequence. Sigh. The scene is largely absurd, much like the rest of this show, but you have to give the whole gang props for, well, their unflagging spirit! In more serious news, Marti (Aly Michalka) discovers some deep dark secrets about her daddy, which can largely be summarized in two words: Crack. Head.
RhyleeS: Got anything on the CSI:NY season finale?
Our spoiler sleuthing on CSI:NY never stops, so when sharp eyes spotted a CSI: New York filming sign—not in downtown L.A., which the show usually dresses to make look like NYC, but a horse-filled rural Los Angeles suburb—we had to grill coexecutive producer Zachary Reiter about it. He relented and told us: "Uh-oh, uh-oh. That was the finale. Suffice to say that it takes us out of New York City for a stretch." BTW, in case you missed it, check out our hard-core interrogation of Reiter about what's to come in the final eps of the season (and maybe the series).
Desperategossip: Private Practice?
We just talked to our beloved KaDee Strickland at the College Television Awards and she told us, "The Charlotte-Cooper wedding is May 5, and I'm anticipating a very good show because what we filmed was a lot of fun." She also tells us, "With the way the finale is, I don't know what's going to happen next season, but I loved the finale. I love what we've been shooting. And I have a really wonderful storyline but I have no idea what that's going to look like [next season]."
Teresa: Any scoop on The Event?
Jason Ritter tells us, "This next episode we find out a lot about how [Hal] Holbrook's character Dempsey, what he's been doing and why he's been doing it. And why he's interested in my character."
Gilly: Any scoop on the next season of Californication?
So much is goin' on next season. Hank's going to get a screenwriting gig working on a movie for a rap impresario named Apocalypse, Hank's dates a "bangin' Carrie Bradshaw wannabe" and our beloved Becca's (Madeline Martin) getting a much older boyfriend whom you will pretty much hate.
Amanda: Any scoop about Masters' exit from House?
House babe Amber Tamblyn herself told us about Masters' departure from Princeton-Plainsboro: "She is going to potentially break one of her own rules in a very interesting way. That is going to divide her in a very interesting way. And it's going to break Masters a little bit which will be really interesting to see because she's kind of been unbreakable but she's always given the hint of being vulnerable in a lot of ways. She could be blown over in any second, and that's what you are about to see." The good news for us Masters fans is that her exit is apparently quite open-ended, so there's hope for a return!
Dinorath in Antioch, Tenn.: Do you have any Covert Affairs scoop?
Auggie (Chris Gorham) is getting replaced as the Tech Ops chief—but don't worry, it's just a plot twist, Chris and his character Auggie are definitely sticking with the show!
heatherhooton: Pretty Little Liars starts in June, heard Tyler Blackburn got picked up for another show, how will this affect Haleb?
Per ABC Family, "Tyler will be back as Caleb for the first part of season two of Pretty Little Liars." So us fans of Caleb and Hanna (Ashley Benson) can rest easy...for now. 
—Reporting by Jenna Mullins, Christina Dowling, Dru Moorhouse and Jennifer Arrow