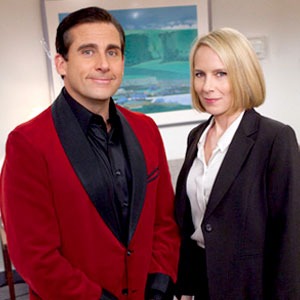 Chris Haston/NBC
NBC just knew we'd need longer than 30 minutes to say goodbye to Michael Scott, because they announced today that Steve Carell's final episode of The Office will be extended to 50 minutes!
The April 28 episode of The Office is the second part of Michael Scott's farewell, appropriately titled "Goodbye, Michael (Part Two)." Parks and Recreation is also supersized that night, stretched into 40 minutes following The Office.
Need to catch up on all the other television goings-on? Get the rest of your boob-tube news, including the fate of cult-fave Psych, in today's TV update:
Supernatural: Is there anything better than pumping yourself up for all new episodes with videos of your two favorite hunky hunters? If loving Jared and Jensen is wrong, then we don't want to be right. Also, our Spoiler Stills gallery has been updated to include those two sporting cowboy hats. Happy Monday!
Psych: When you took a gander at our Spring and Summer Premiere Calendar, you probably thought: 'Hey, that was really nice of them to put that together. How convenient!' And then you thought: 'I see all my favorite USA shows, but where is Psych?' Turns out, the premiere of Psych has been pushed back to fall. Ted Linhart, VP of Program Research at USA Network tweeted: "Psych will return this coming fall. We know fans [are] not happy. When we look at macro view, something had to move & ironically Psych's strength last Fall made it work."
Leverage: Danny Glover is set to guest star. What's his role all about? That is an answer we will have in today's Spoiler Chat, courtesy of Leverage star Aldis Hodge. Hooray!
 
‪Castle: TVLine.com is reporting that a character that has been with the series since the beginning will be killed off the in the season finale. We hate this type of speculation, but we'd be irresponsible TV watchers if we didn't at least take a guess in the comments. See you there!