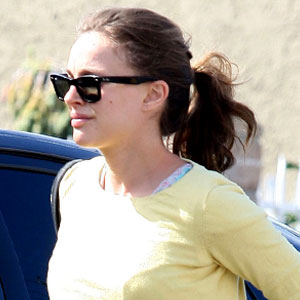 Fame Pictures
At this rate, she'll be squealing through a McDonald's drive-through by the time she's ready to pop.
Full-fledged vegan Natalie Portman is reverting back to vegetarianism, giving into her pregnancy cravings for bakery treats and the dairy products traditionally used in their recipes.
"If you're not eating eggs, then you can't have cookies or cake from regular bakeries, which can become a problem when that's all you want to eat," Portman said on the Q100 Bert Show earlier today.
But the Academy Award-winning actress still believes pregnant women can stay healthy by sticking with a vegan diet:
"I know there are people who do stay vegan but I think you have to just be careful, watch your iron levels and your B12 levels and supplement those if there are things you might be low in in your diet," Portman explained.
The face of Dior, pregnant with fiancé Benjamin Millepied's baby, had written a piece for The Huffington Post in 2009 explaining that Jonathan Safran Foer's book Eating Animals influenced her to become a vegan and vegan activist after 20 years as a vegetarian. 
"I'm often interrogated about being vegetarian (e.g. 'What if you find out that carrots feel pain, too? Then what'll you eat?'" she wrote. "But this book reminded me that some things are just wrong. Perhaps others disagree with me that animals have personalities, but the highly documented torture of animals in unacceptable, and the human cost Foer describes in his book, of which I was previously unaware, is universally compelling."
This isn't the first time the small-framed Portman has talked about her diet. While preparing to film Black Swan, the actress went on a "very extreme" restrictive-calorie diet, barely eating and working around 16 hours a day.