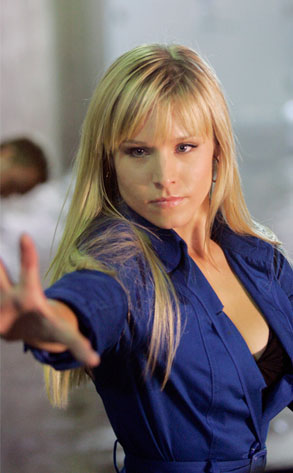 Chris Haston/NBC
Yay! Heroes really is coming back.
That's the affirmation we've received this morning, as new sneak-peek descriptions of the first two episodes of the third season (airing back-to-back Sept. 22) were just released by NBC.
Click in for the official look, plus scoop from inside sources on Seth Green, Breckin Meyer, Sylar, Peter and more!
Roger Williams/ZumaPress.com
First, what my sources are telling me:
EW's Michael Ausiello is right on the money (you sneaky frenemy you!). Seth Green and Breckin Meyer are in final talks to come on Heroes this season; however, as of late yesterday, they still had not signed a contract. Keep those fingers and toes crossed, 'cause I'm hearing what they have in store for these boys is fantastic.
Kristen Bell will most definitely be back, beginning with the second episode (which is the second hour of the premiere) and most likely for a total of five episodes this season. I also hear (spoiler alert!) she is very much a part of the series in a very major way when they flash forward to the future. I think you'll be surprised over who she's hooking up with—and also might squee a little.
Expanding on what the release says below, I can tell you that the huge reveals in the first few episodes include Sylar can-opening the head of a Hero we love, Sylar revealing definitively whether he plays Hannibal the cannibal with those brains, Mama Petrelli revealing something that changes the entire dynamic between many of the main characters (this is what I'm most excited about), Nathan Petrelli finding God and Peter is so not being himself.
Now here's what NBC can tell you:
EPISODE 301

"THE SECOND COMING" – Sept. 22

"VOLUME 3: VILLAINS" MAKES A TWO-HOUR SPECIAL DEBUT WITH REVELATIONS THAT WILL REDEFINE FAMILIAR CHARACTERS AND SHAKE THE SERIES TO ITS CORE -- The first chapter of "Volume 3: Villains" kicks off moments after shots rang out, as the shocking identity of Nathan's (Adrian Pasdar) assassin and the reasons why the Texas press conference had to be cut short are revealed -- immediately throwing Peter (Milo Ventimiglia) and Matt (Greg Grunberg) into unexpected, uncharted territory. With his powers partially restored, Sylar (Zachary Quinto) decides a visit to Claire (Hayden Panettiere) could give him a boost. Meanwhile, in Tokyo, Hiro (Masi Oka) and Ando (James Kyson Lee) are charged with safeguarding a family secret that could split the planet apart, and discover that the path to a grim future starts with shady speedster, Daphne (guest star Brea Grant). In New York City, thanks to Maya (Dania Ramirez), Suresh (Sendhil Ramamurthy) makes a startling breakthrough that could change the world -- or just destroy his. And who is Tracy Strauss? Ali Larter, Cristine Rose and Jack Coleman star. Noah Gray-Cabey, Ashley Crow, Randall Bentley, Jimmy Jean-Louis, George Takei, Malcolm McDowell, Carlon Jeffery, Jamie Hector, Bruce Boxleitner, Francis Capra and Blake Shields guest star.

 

EPISODE 302

"THE BUTTERFLY EFFECT" – Sept. 22

A DOZEN VILLAINS WITH UNIMAGINABLE POWER ARE UNLEASHED AFTER THE COMPANY IS ATTACKED -- SYLAR VS. ELLE (KRISTEN BELL) -- ANGELA PETRELLI (CRISTINE ROSE) TAKES CONTROL AND REVEALS A JAW-DROPPING SECRET -- WRITTEN BY CREATOR TIM KRING AND DIRECTED BY EXECUTIVE PRODUCER GREG BEEMAN -- In the shocking second chapter of "Volume 3: Villains," Angela (Cristine Rose) clashes with her much-changed son, Peter (Milo Ventimiglia), over how best to avert a seemingly inevitable worldwide catastrophe. First, Sylar (Zachary Quinto) declares war on the Company by attacking their main facility, and finds even more than he bargained for on Level 5. During a devastating battle with Elle (guest star Kristen Bell), a dozen savage criminals -- all with terrible abilities -- escape. Meanwhile, Claire (Hayden Panettiere) discovers something new and unexpected about her abilities. Determined to reclaim his family's terrible secret, Hiro (Masi Oka) and Ando (James Kyson Lee) track Daphne (guest star Brea Grant) to Paris. After a fateful night, Suresh (Sendhil Ramamurthy) is thrilled to find his research, his life and his relationship with Maya (Dania Ramirez) evolving in leaps and bounds. Stuck in unfamiliar territory, Matt (Greg Grunberg) finds a guide (guest star Ntare Mwine) to help him. Ali Larter, Adrian Pasdar and Jack Coleman star. Ashley Crow, Jessalyn Gilsig, Malcolm McDowell, Stephen Tobolowsky, Bruce Boxleitner, Francis Capra, Blake Shields, William Katt, Ken Lally, David H. Lawrence XVII, Andre Royo and Kiko Ellsworth guest star.
Anyone else excited for this show to return? And how do these first two episodes sound to you? Holler in the comments!