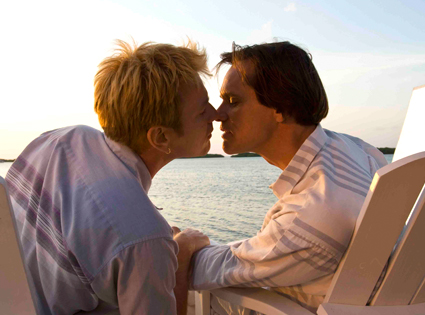 Sundance
Nothing beats a romantic kiss on the water.
The quirky, based-on-a-true-story I Love You Phillip Morris, about two cellmates played by Jim Carrey and Ewan McGregor who find love through thick, thin and prison breaks, was named Outstanding Film (Limited Release) on the second night of the 22nd Annual GLAAD Media Awards, which hands out its honors in three different cities.
But GLAAD just couldn't decide which major, trendsetting hit show to name Outstanding Comedy...
So Glee and Modern Family shared the honor tonight!
Julie Bowen, Jesse Tyler Ferguson and Ariel Winter were there to snag Modern Family's trophy, while Golden Globe winner Chris Colfer and Mike O'Malley gleefully accepted for, well...you know.
Sean Hayes (who was recently announced as the Farrelly brothers' choice to play Larry Fine in The Three Stooges, FYI) presented fellow Broadway and TV star Kristin Chenoweth with GLAAD's Vanguard Award for her efforts in promoting equal rights for the LGBT community.
The Stephen F. Kolzak Award, given to an openly gay member of the entertainment or media community for efforts to eliminate homophobia, was presented to NBC Entertainment Chairman Robert Greenblatt by none other than grande dame Dolly Parton.
Kirsten Dunst honored 17-year-old Bianca "Nikki" Peet with a Special Recognition Award for her efforts to organize a Gay Straight Alliance chapter at her high school in Corpus Christi, Texas, after her principal initially forbid it.
Project Runway was named Outstanding Reality Program and last season's runner-up, Mondo Guerra, was on hand to accept.
Amy Poehler and Rashida Jones cohosted the ceremony at Los Angeles' Westin Bonaventure hotel. The next round of awards will be handed out May 14 in San Francisco.
UPDATE: On May 14, 2011, GLAAD honored several more award recipients: Kim Cattrall won the Golden Gate Award, Kara Swisher took home the Local Hero Award, AT&T won for Corporate Leader, The Kids Are All Right won Outstanding Film, 8: The Mormon Proposition won for Outstanding Documentary, and Christian Chávez won for Outstanding Spanish-Language Music Artist.
Glee's Naya Rivera hosted the event, with Mario Lopez, Sara Ramirez and Louis Van Amstel among those in attendance.