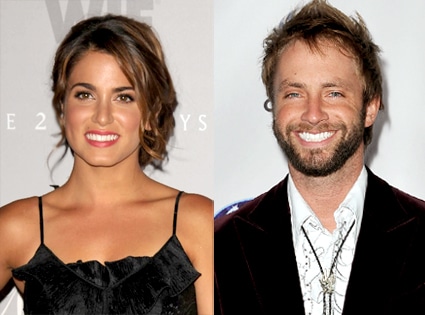 John Shearer/WireImage.com; Mark Davis/PictureGroup via AP IMAGES
It's official, kids. Nikki Reed is calling American Idol's Paul McDonald her "boyfriend," a well placed source tells us.
And as Idol super fans may recall, we know exactly where the Twilight hottie and Idol heartthrob first met, back when...
He had no idea who she was!
Check out this video of their first meeting on the red carpet when the top 13 Idol finalists attended the Red Riding Hood premiere in early March. Hint: Fast-forward about 50 seconds in...The chemistry is palpable! 
The Idol cameras were rolling as Nikki, in a strapless dress and flowing hair, gushes to Paul, "You're amazing. I'm blushing, I should go." Paul then says, "Wow, thank you" and the two awkwardly hug goodbye.
As soon as Reid is out of ear shot, Paul turns to the camera crew and asks, "Was she a famous actress or something? I'd hang out with her!"
And it turns out, the two have been "hanging out" since then. No word on who got whose digits, but these two are totally into each other!
So while Reed has been busy off filming Breaking Dawn and McDonald is obviously preoccupied trying to win American Idol, the two have been keeping in close contact via Skype.
And despite reports that Taylor Lautner is also Skyping with Idol contestant Lauren Alaina, a source tells us, "Taylor has only said hello to some of the Idol contestants when he has been in the same room as Nikki when she has been Skyping with her boyfriend. He has not Skyped one-on-one with any of the Idols."
Uh, sounds to us like Nikki and Paul are the ones who could use a little more one-on-one time.
Nikki's rep didn't return our requests for comment on the steamy new romance, but if Nikki wants to be an extra-good girlfriend, she should summon the massive Twi-hard nation to start calling in Idol votes for her BF!