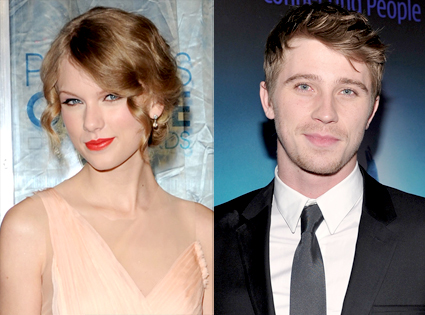 Jason Merritt/Getty Images; John Sciulli/Getty Images
When Us Weekly broke that Taylor Swift and hot Country Strong dude Garrett Hedlund had a dinner date in Nashville last week, our first thought was, What a lucky, bitch!
Then we remembered, wait a minute—U.W. had also said Garrett's in Nashville recording an album. Uh, he's not, his rep confirmed. So is any of this lovey stuff with Taylor and Garrett actually true?
Reps to both stars would not comment, but their friends did:
The "date" did actually happen. But it was only dinner. And Garrett is on the road filming, not recording any future love songs to Taylor. "He's been asked," Garrett's rep said about a possible album, but that ain't gonna be in the works any time soon, we're told.
As to the onetime date itself, friends to Swift say she's a bit frustrated by the whole situation, which we found pretty shocking. I mean, after all, she's been out with John Mayer, Chord Overstreet, Taylor Lautner, Jake Gyllenhaal and now hottie Hedlund, too?
Girl must be ecstatic, right?
Wrong: Taylor pals fret that the young AMC Entertainer of the Year winner is sometimes "struggling" with the extreme scrutiny on her love life and that she feels often trapped into a no-win situation.
If she wants to go out with a guy—Hedlund, for example—and just see if she might like to date him, she can't even do that with everybody already thinking they're dating, these Taylor chums complain.
Taylor also feels it's a bit unfair, as she considers herself a musician first, not a reality starlet seeking fame for fame's sake.
Hey, doll, not sure we're with ya on that one! Don't write songs like "Dear John" after breaking up with John Mayer if you don't want people talkin' about ya, honey!
We also spoke with a woman who's very friendly with Hedlund. The pal actually asked Garrett about his recent date with Taylor.
We're told Garrett didn't say anything—he only laughed.
Hmmm. Is that good or a bad sign, Taylor?
We say great!