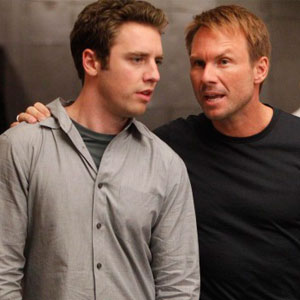 FOX
Who do you call when you need someone to break into your own security system?
Christian Slater. Who else?
In this case, you are calling Oz and his team of misfits at Contra Security (who test the strength and reliability of companies' security by—wait for it—breaking in), and that means you are tuning into Fox's new comedy Breaking In. Slater ups his quirky factor as the eccentric boss at Contra, and among his group of talented hackers and cons is new guy Cameron (and our new crush Brett Harrison). You've probably seen the many promos for Breaking In, so you might have a sense of what's in store tonight when it premieres. But we are also here to tell you...
This show is very funny. There's not much more to say other than that, because frankly, what more do you need from your television comedies? Breaking In is a fresh take on workplace comedies, but the real shining star is the ensemble dynamic. Slater seems right at home as the crazy intelligent and just plain crazy leader, and the supporting cast (including a hilarious Michael Rosenbaum) brings the right amount of silly camaraderie.
In fact, we gave the pilot a second watch, just because we enjoyed it so much. And you know we don't hand out repeat viewings to just any old show. Check out our interviews with the cast, and be sure to tune into the premiere of Breaking In tonight on Fox!