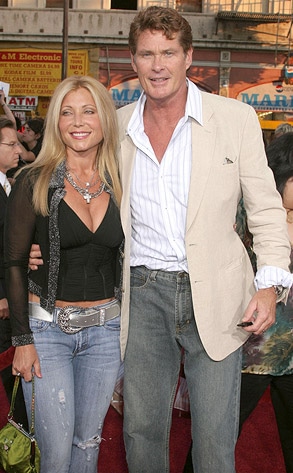 Paul Fenton/ZUMAPress.com
When it comes to the current real estate market, David Hasselhoff has the law on his side.
A Los Angeles judge, apparently falling on the side of expedience, has listed the actor's 10,000-square-foot Encino manse for $5.95 million—more than the Hoff wanted as an asking price but far less than the nearly $8 million his ex-wife, Pamela Bach, was willing to try for.
Though he moved into a Bel-Air bachelor pad following their separation, Hasselhoff was allowed to move back into the family home with their two teenage daughters after being awarded sole custody last June, but he opted to allow Bach to remain in the house.
It was determined in April that the residence would be put on the market and that the America's Got Talent judge would pay $2,500 per month in child support for then 17-year-old Taylor and $1,500 for 15-year-old Hayley until each turned 18 (which Taylor did in May).
Some of Hasselhoff and Bach's more interesting decorative household items (the French maid statue, anyone?) were also divvied up at the time, as well.
In addition to settling the price dispute last week, L.A. Superior Court Judge Robert A. Schnider also dismissed Bach's claim that her former hubby had misallocated $1 million in assets to keep her from getting her hands on it.