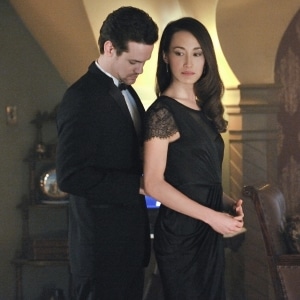 Ben Mark Holzberg/The CW
After a long hiatus, our favorite shows are about to explode back onto our screens with larger-than-life episodes. Case in point: Nikita. We've got some scoop on this week's episode that will surely stir you all into a Mikita-crazed frenzy so frantic that you won't be able to stop spinning until Friday! 
Plus, get some insight on Christina and Owen and Grey's Anatomy, Glee goes back in time, and more secrets revealed on Olivia Wilde's return to House. We've got all that plus so much more TV goodness in this week's Spoiler Chat… 
Writertay (via Twitter): How will Emily Deschanel's pregnancy affect the end of this season of Bones?
No decision has been made, but I hear that the powers that be over at Bones haven't completely disregarded the idea of writing the pregnancy into the show.
mariaaax1723: Please One Tree Hill gossip! Anything at all! And what are the chances of a new season?
Expect the usual One Tree Hill twist when it comes to those babies! Meaning, don't miss a minute of the episode. As for news on another season, I would be surprised if the announcement of a renewal came before May upfronts.
Bagelsvswaffles: Should I be worried about Aunt Jenna on The Vampire Diaries?
At this point, I'd be worried about everyone. Even the holy trinity of Damon-Elena-Stefan. But let's remember that just because someone dies on TVD, it doesn't necessarily mean they won't be coming back in some capacity. Keep that in mind as the season winds down, m'kay?
Cathy: What's the "new" Law & Order: Los Angeles like?
Skeet Ulrich isn't the only thing that goes missing from the show; so does Detective Jaruszalski's (Corey Stoll) epic Magnum 'stache. With those two things M.I.A., it really does make the show feel brand spanking new. Is that a good or bad thing? We'll leave that decision up to you.
Sara: I hear that the April 7 episode of Nikita is a doozy. Truth?
Oh, yes. That episode (titled "Covenants") is a game changer. In fact, you might even say it changes everything. Lots of things change. Notice how I'm using the word change a lot? Dig it.
xcalilax: Eeeeeeep! Any Mikita news? I'm just dying waiting for the new episodes!
Mikita fans will have a really steamy scene to look forward to in this week's episode. A hotel room, Russia, Michael (Shane West) and Nikita (Maggie Q) all dressed up…Could they set it up any better? Enjoy, because the rest of the episode is quite chilly. Brrr…
ChicaNikki149: Can we please get some Mikita scoop? I will literally die if I don't get some!
Well, I surely don't want you to die! If you kick the bucket, you'll miss the Michael, Nikita, and Kasim showdown. And you'd miss a jaw-dropping twist that could either rip Mikita apart…or bring them closer together. Which one is it? You don't have to wait much longer to find out!
Kate in Venice, Calif.: Law & Order: SVU scoop please!
You got it! How do you feel about a L&O:LA crossover and the return of ADA Casey Novak (Diane Neal)? That's right, all in one episode. OK, we'll admit that ADA Alexandra Cabot (Stephanie March) is actually our favorite, but Casey Novak is a close second. She comes back with swagger and a quick explanation for her reappearance. Look for her to clash with Terrence Howard's L&O:LA character ADA Jonah Dekker. It's that classic East Coast-West Coast rivalry yet again.
gumbi7: Any insight on what the "problem" is going to be for Cristina and Owen on Grey's for the rest of the season?
Last week's big blowout between Teddy (Kim Raver) and Cristina (Sandra Oh) will leave Owen (Kevin McKidd) to play referee. When we hit the Grey's Anatomy set, McKidd told us, "There's a lot going on between Teddy and Cristina at the moment in their professional and personal relationship, and Owen's very much trying to mediate that. Maybe with some success and maybe not. It's not all just happiness and light." We think Owen should probably just take away the scalpels from both of these tough lady docs before any damage is done.
Devon1975: Dare we hope that Calzona's baby makes it to the next season of Grey's?
We don't like to think Shonda & Co. are completely evil enough to kill off the little Calzona baby, but things will definitely get worse before they get better. The good news is you may have heard about a little thing coming up called the Calzona wedding, and producer Stacy McKee tell us, "They've been through an awful lot this season, and it gets even worse soon. This is the magical part and they'll get to be in the honeymoon stage for a while." We think that sounds hopeful for the longevity of Baby Torres-Robbins-Sloan.
Jess: I hope that this isn't the last season of CSI: New York, but the possibility is there. There is no cliffhanger in the season finale, right?
We asked co-executive producer Zachary Reiter that very question in our Q&A. He wouldn't reveal much about the finale but he did tell us, "Should we find ourselves in a position where we don't come back, the episode—and it's part of the reason everybody on the staff is proud of it—will feel like an appropriate sendoff, should it end up being a series finale." We're not ready to say, "goodbye" to our fave criminalists, so let's make sure that this is just an emotionally satisfying season finale.
Pat in Munster, Ind.: What's coming up on House?
We love a good road trip and so does House (Hugh Laurie). A quick stop by a prison, fresh air in your hair, deep emotional bonding, all culminating with a competition and chili. Really, what could be better? How about a fantastic high noon standoff between House and his biggest competition, a young defending champ who spends his summers interning at JPL (that's NASA's Jet Propulsion Laboratory for those not aware of the Pasadena, Calif., institution).
Kimberly: House! Why was Thirteen in jail?
That's the one thing we can't tell you. The whole fun of the April 11 episode is that big mystery and watching House try to pry the truth from the jailbird. We do learn something cool about Thirteen (Olivia Wilde): She can make a great weapon. And no, not a shank made from a filed-down toothbrush or a garrote made with dental floss, but a fertilizer-powered potato gun that should be sure to propel House to a big carnival win.
Tammy in Trenton, N.J.: Really, what did Thirteen do to end up in prison?
My, aren't we persistent? Let's just say Thirteen's big reveal is well worth the mystery. And, based on the guesses we've seen floating around the web, no one has hit the nail on the head yet. It's definitely a shocking story. Even better, Olivia Wilde and Hugh Laurie are absolutely fabulous in this episode, and you might be surprised to learn Thirteen isn't the only one to spill her emotional guts during the bonding road trip. Also, she might not be the only one who spends time in the slammer. But the sweetest part of the duo's bonding time may be the promise House makes to her at the end of the episode.
Aaron in Long Beach, Calif.: Any news on Psych? I miss Shawn and his "only black lead on a cable network" partner!
After tackling werewolves, ghosts and Twin Peaks, Shawn (James Roday) and Gus (Dulé Hill) are making the inevitable leap into vampire territory with a fangbanger-themed episode this season. Look for Detective Lassiter (Timothy Omundson) to fall victim to a bloodthirsty (literally) hemophiliac when USA's comedy detective series returns this summer.
Aileen in New York City: Glee scoop!
It's disco time! Or, so we hope. The bosses over at Glee are looking to cast a pretty blond girl and a handsome African-American boy to play high school students…back in the '70s!
dancelivesing: Would love some news on Finn and Rachel! They are still clearly in love, so any good moments ahead?
Prom preparations + the race for prom court = fun Finchel moments. And some hilarious Finn material.
Toni_N: Is Karofsky going to come out on Glee this month?
It would seem that the "Born This Way" episode is setting up for that, wouldn't it? Kevin McHale couldn't tell us much, but he did promise that the Lady Gaga song "ties in with the storyline nicely." I'd say it's safe to assume that Karofsky will finally realize he has the "same DNA" as those he's been bullying.
terriwoodschels: Will Blaine be following Kurt to New York for Nationals on Glee, and can he transfer already, please?
Don't you wish we could hurry those transfer papers along? But as far as I know, Blaine (Darren Criss) won't be at McKinley High before season three. As for Nationals, chances are high Kurt will want Blaine there for the competition.
Misty in Kansas City, Mo.: Any Breaking Bad news? When is it coming back?!
Breaking Bad returns for its fourth season this July, and after visiting the set in Albuquerque, we have more scoop than we can handle. "Our premiere episode is very shocking," Emmy-winning star Bryan Cranston told us; his costar and fellow Emmy winner Aaron Paul said "it literally starts off right where it left off," and adds: "I can't wait to hear people's reactions, because they are going to lose it, in the greatest way possible." Turns out Jesse's apparent murder of Gale (David Costabile) in last season's finale doesn't quite eliminate Walt's cooking competition though, as we discover in the midseason introduction of Gus Fring's (Giancarlo Esposito) partner, Max, a trained biochemist (courtesy of a scholarship from Gus himself) who, like Gale, "possesses a gentle soul."
thewolveswithin: Anything #BreakoutKings!
Brooke Nevin tells us she knows how the Julianne and Lloyd (Jimmi Simpson) storyline plays out, and it sounds like it won't be all sunshine and butterflies by any stretch of the imagination. "Basically you don't want to get Julianne too mad, because if you get in the way of her getting the information that she needs, then she is going to fight for what she wants until she gets it," Brooke says. We bet this type of thinking will be applied both in work…and in play. Hint-hint.
Kristina: Justified!
You may have realized that we are a little obsessed with this show. OK, a lot obsessed. This week's episode is so fantastic that you just have to watch for yourself. Seriously, you will not regret it. But if you need a little tease: There's a good ole fashioned whoop-de-doo, Boyd (Walton Goggins) and Ava (Joelle Carter) dancing, a big death and what is sure to be Margo Martindale's bone-chilling Emmy nomination clip. We're going to go out on a limb and suggest that the events of this episode are so important they could launch a thousand bullets and propel us through to another amazing finale.
SaeaSa: Anything on Raylan and Winona after the money-stealing?
Winona (Natalie Zea) doesn't make an appearance in this week's episode of Justified, we think she might be lying low after bringing a storm cloud of trouble upon herself and Raylan (Timothy Olyphant). But don't worry, Winona is definitely on Raylan's mind as he plays phone tag and avoids the suggestive offers of the smart-talking coal company lady, Carol Johnson (Rebecca Creskoff), that he's still in charge of protecting.
pinsleric: What is up with this new, evil alter on United States of Tara?
You are jumping ahead quite a few weeks, but fortunately we stormed through the whole season and we'll give you a hint: He is really really evil. Oops! We've already said too much. OK, I guess we'll also tell you that Toni Collette gets to do her finest work yet when the new evil alter comes storming to light, and it's well worth the wait.
Lauren in Anderson, S.C.: This season of Nurse Jackie is going to be phenomenal! I just know it. But it breaks my heart to see Jackie and O'Hara on the outs!
Prepare to be brokenhearted for a bit longer. Eventually, the two will make amends, but despite them trying to act like all is well…nothing will be the same after that intervention. Plus, there is an episode coming up where Jackie and O'Hara will finally have that confrontation that's been building up since season one. And both Edie Falco and Eve Best knock it out of the park.
Kelly: I just want Sabrina and Jimmy to get together on Raising Hope. Is that too much to ask?
No, it's not. Unfortunately, we won't be seeing it anytime soon. Especially when dear lovesick Jimmy (Lucas Neff) tags along with Sabrina (Shannon Woodward) to find out if Wyatt (Ryan Doom) is cheating on her. Also, the setting of said stakeout is a costume party, so lots of dignity is lost in just one scene. And somehow…Jimmy starts defending Wyatt? Crazy town!
—Reporting by Jenna Mullins, Jennifer Arrow, Christina Dowling & Dru Moorhouse