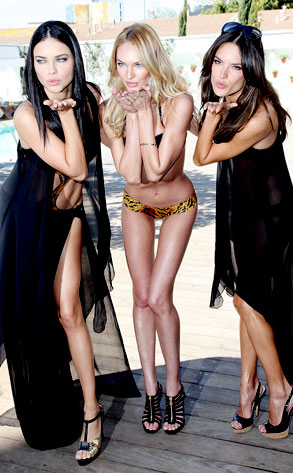 WENN.com
This Angel is getting a little too light for her wings.
Victoria's Secret model Candice Swanepoel has been turning heads recently—but not for her blond locks or voluptuous bod. This beauty's been looking alarmingly thin lately and hasn't been filling out those lacy underthings so well.
It was markedly apparent on Wednesday, when the once curvy South African hottie revealed her newly skeletal frame at an L.A. fashion shoot at the Mondrian Hotel wearing tiger print bottoms and a black bra. Just two months ago, a much healthier Swanepoel posed as the face of the lingerie house's Valentine's Day campaign. Her weight loss since has been dramatic.
And now, a fashion insider close to the Victoria's Secret models tells us that Swanepoel's future with the company is in jeopardy.